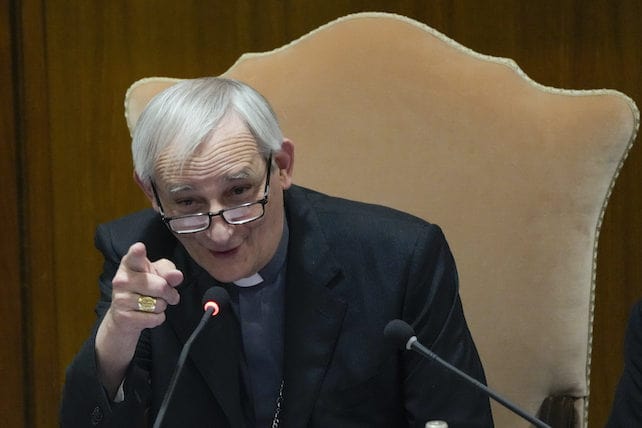 VATICAN CITY (RNS) — Pope Francis appointed Italian Cardinal Matteo Zuppi to head his mission to foster peace in the Russian-Ukrainian war as the Vatican renews its efforts to mediate the conflict in the heart of Europe.
Zuppi, who is the head of the Italian Bishops' Conference, or CEI, "was charged with conducting a mission in accordance with the Secretary of State that contributes to easing tensions in the conflict in Ukraine with the hope, never lost by the Holy Father, that this might open paths toward peace," read a statement by the Vatican on Saturday.
The timing and execution of the mission is currently under study, the statement added.
Pope Francis and the Vatican have attempted to mediate a peace between Russia and Ukraine ever since the conflict began 15 months ago. The pope has sent trusted advisers to Ukraine, including Papal Almoner Konrad Krajewski and Vatican Secretary for Relations with States Mons. Paul Gallagher.
Zuppi's closeness to the Movement of Sant'Egidio, a Catholic lay organization focused on mediating peace and helping the poor, is considered among the main reasons why Francis selected him for the mission. The cardinal worked alongside the movement and its founder, Andrea Riccardi, to promote peace and diplomacy in Mozambique in the 1990s and more recently in the secessionist Basque territories.
In previous interviews with Italian media, Zuppi has taken a position that seeks peace by any means necessary and has been skeptical that Western governments sending weapons to Ukraine is the best and only solution to the conflict.
"War is a pandemic. It involves us all," he told Italian bishops gathered in Rome for their General Assembly on Tuesday (May 23).
"What happened to creative peace efforts?" Zuppi asked. "Peace will never come from pursuing our own strategic interests, but from policies that are capable of looking at the whole, to the development of all."
The appointment signifies an important papal recognition for Zuppi, who already faces many challenges in Italy. The cardinal is currently overseeing the general assembly of Italian bishops in Rome, which has been under pressure to provide transparency and accountability in the fight against clerical sexual abuse in the country. His diocese, in the Italian region of Emilia-Romagna, has recently experienced floods that have killed 14 people.