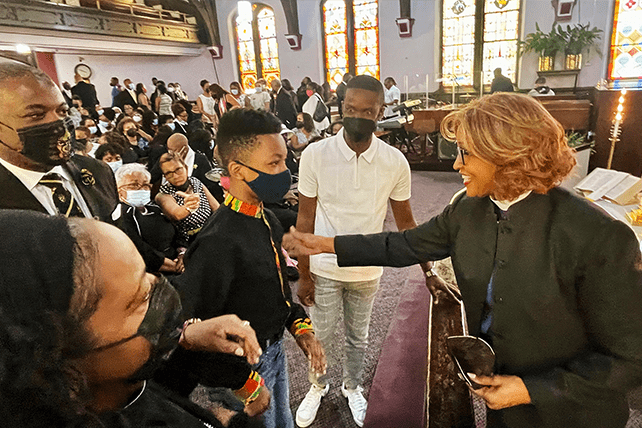 (RNS) — Bishop Vashti McKenzie retired two years ago as the first woman bishop of the African Methodist Episcopal Church. But she didn't stay still for long.
Last year, she was named interim president of the National Council of Churches, an ecumenical organization with 37 communions, or member denominations, including Protestant, Orthodox, evangelical, Anglican, historic African American and peace church traditions.
McKenzie was originally appointed for a two-year stint, and the NCC general board decided at its spring meeting in early May to elect her as the organization's president and general secretary as it prepares to mark its 75th year in 2025.
"She has been a blessing to the council and a blessing to the ecumenical world," said Christian Methodist Episcopal Bishop Teresa Jefferson-Snorton, NCC chair, announcing the development at the May 15 worship service in Washington, D.C., that launched the upcoming anniversary.
McKenzie, 76, talked with Religion News Service about why she's continuing with the ecumenical group, how she responds to its critics and what lies ahead for its future.
The interview was edited for length and clarity.
Why did you say yes to this more permanent role?
The more I delved into it, took a deeper dive into advocacy and activism work and, of course, unity and ecumenism, the more I saw needed to be done and wanted to do. I've always had a passion for justice work. It's not a new passion. I grew up in a family that was a part of social justice, the Civil Rights Movement and the whole nine yards. My parents took me to the March on Washington.
When it started in 1950, the National Council of Churches was a key leader of mainline Protestants, but in more recent years, it's had a staff of fewer than 10. It's reduced its annual budget to about $2 million and moved from the so-called God Box in New York City to Washington. What is the status of the organization's staffing and funding now?
We have about 10 staff members now who work and, of course, any number of volunteers. NCC went through a reorganization in 2013, reducing the size of the organization. In our headquarters now we have about 10 people, some who work outside of the DC area, in a hybrid situation, and some people who work on the ground. The budget is just about that (same) size.
The NCC has launched a two-year celebration to mark its 75th anniversary in 2025. Is there any particular thing you're seeing ahead that might be different than the past?
I think that the difference, at this point, is that I am adding activism to advocacy.
It's not that we haven't done activism. We have. I mean, the NCC was right there at the March on Washington 60 years ago. It was a part of the planning and organizing just like NCC was a part of the Poor People's Campaign and their march. I believe we need to do more. We need to be more on the ground.
We can't be everywhere but when some things happen, we need to be there. So when the shooting at the Tops market happened in Buffalo, NCC was on the ground. I was there. We worked with our NCC communion churches in that area. When the children were killed at Robb Elementary School, we went to Uvalde. We worshipped in our communion churches and talked with the pastors there to see how we can support them. After the cameras go away, after the lights are turned off, what kinds of things do you need?