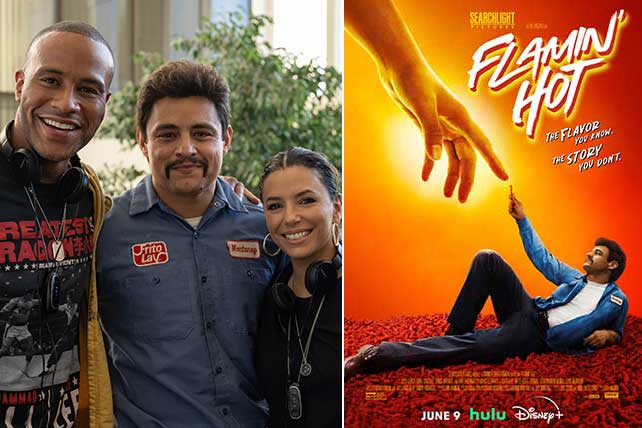 ChurchLeaders had the opportunity to talk to "Flamin' Hot" film producer DeVon Franklin ("Miracles From Heaven," "Breakthrough," "The Star") and ask him why church leaders should watch the film when it releases to Hulu and Disney+ on June 9.
"Flamin' Hot" is inspired by the story of Richard Montañez, a Frito-Lay janitor who says he disrupted the food industry by channeling his Mexican-American heritage to turn Flamin' Hot Cheetos into an iconic global pop culture phenomenon.
Through the film, Franklin and director Eva Longoria share how Montañez's wife, Judy, played a vital role in helping the family turn to faith during times of hardship and uncertainty.
After meeting the Montañez family about six or seven years ago, Franklin said he knew he had to make a movie telling their story.
"Who would have ever thought there would be a story that could bring hope and help and inspiration," he said. "And I didn't know how I was gonna get it done. I truly had no idea, but I gave them my word that I would get it done. And thankfully I succeeded. It was the uniqueness of their story that made me commit to it."
Franklin shared that he was grateful for the opportunity to tell Montañez's story, the story of a Latino family.
"I think that when you look at Montañez's story, his persistence will help church leaders understand the value of persistence even more," Franklin said.
Franklin added that Montañez didn't set out to make a billion dollar brand. Rather, Franklin said that Montañez was merely trying to help the Frito-Lay plant where he worked, which was experiencing economic turmoil, in order to help save the jobs of his friends and colleagues who were being laid off.
According to Franklin, Montañez's focus was, "What can I do to be my brother's keeper?"
Montañez had a heart of service and a desire to help people. Along the way, he made history, Franklin explained.
Franklin hopes that church leaders watching the film will be inspired toward "reorienting their intention" and getting back to "a heart of service."
Adding that he hopes the film will inspire viewers to be persistent, Franklin said, "Just because you've tried it for a few months, doesn't mean that you got to give up on it."