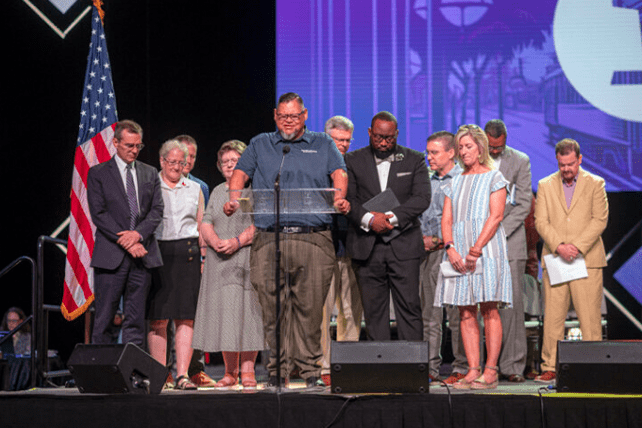 NEW ORLEANS (RNS) — For more than a decade, Southern Baptists called for their leaders to set up a database to track abusive pastors, hoping to stop abusers from preying on one church after another.
In the past, their leaders said creating such a list was impossible.
That has changed this week, as leaders of the Southern Baptist Convention's Abuse Reform Implementation Task Force unveiled a "Ministry Check" website Wednesday (June 14) as part of their report on the convention's annual meeting.
The website was part of a series of abuse reforms passed last year by Southern Baptists in the wake of an investigation that found SBC leaders had mistreated abuse survivors for years and sought to block any attempts to address the issue of abuse on a national level.
Getting that website off the ground was a historic moment, said Heather Evans, a social worker and a member of the task force charged with implementing those reforms. Evans said she'd had the privilege of watching with a group of abuse survivors as the site, sbcabuseprevention.com, went live.
"They had been told for years and years this could never be done," she said during a press conference on Wednesday.
The website is still a work in progress, said task force leaders. While the site works, all the names to be added to the site are still being vetted, said Marshall Blalock, the Charleston, South Carolina, pastor who chaired the task force.
Those names will include leaders from three categories: those convicted of abuse, those who have confessed to abuse and those who have had a legal judgment against them for abuse.
Last year, messengers approved a fourth category — those credibly accused of abuse.
According to the abuse implementation task force, "an independent third party hired by any church or other Baptist body, may determine, by preponderance of the evidence following an inquiry, that a pastor, denominational worker, or ministry employee or volunteer is credibly accused."
However, the task force decided to hold off on the fourth category — in response to pushback from critics of the process who worry that pastors will be falsely accused of abuse. That pushback led to a motion from the floor to permanently remove that category. The motion was rejected.
Blalock told the gathered crowd of more than 12,000 local church representatives, known as messengers, that the fourth category was essential. Most abuse goes unreported, he said, and few abusers end up convicted or facing legal consequences for their actions.