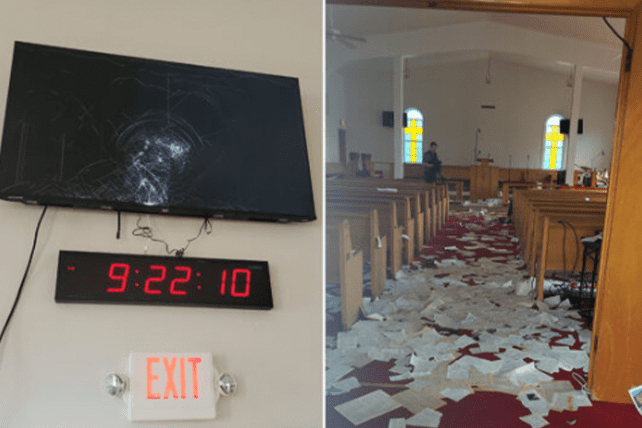 (RNS) — A 23-year-old man has been charged with trespassing and burglary after an investigation of vandalism estimated at more than $100,000 at a Maryland church.
Jarren Alexander was taken into custody on Wednesday (June 28) after an incident earlier in the month at Fowler United Methodist Church in Annapolis, police said. He was also named as a suspect in vandalism at another church in the city, St. Philip's Episcopal Church, which suffered destruction of a church sign and statues on subsequent days.
The Rev. Jerome Jones Sr., pastor of Fowler United Methodist Church, said he was relieved by the development in the case involving his historically Black congregation.
"It has brought us great joy, knowing that God is a God of love, peace, mercy and a God of justice," he said in a Friday interview. "And for my seniors, it will give them so much peace that they deserve."
Jones said earlier that some of the older members of his congregation were apprehensive about attending church after hymnals and Bibles were ripped apart and their pages strewn across the red-carpeted sanctuary. The wooden cross, to which they lifted up their weekly offering, also was torn down and tossed into the pews.
"For me as the pastor, I feel like healing can begin for me now that we are getting some form of closure," he said, "but yet my prayers are still going out for the young man."
Marc Limansky, a spokesperson for the Anne Arundel County Police Department, said Alexander, a Black male who is in custody at a detention center, was not affiliated with either church. He added that "we do not yet have a motive" in the Fowler United Methodist vandalism.
The police department also announced other arrests "in recent hate crimes involving vandalism to places of worship."
Blake Krenzer and Brandon Krenzer of Gambrills, Maryland, were charged for involvement with vandalizing Pride and Black Lives Matter signs at Ark & Dove Presbyterian Church, also in Annapolis.
"Any perpetrators who think that a house of worship is a place to express their hate should learn that justice will prevail," said Anne Arundel County Executive Steuart Pittman in a statement.
Added Deputy Chief of Police Katherine Roberts: "There is no place for hate anywhere in Anne Arundel County, and we will not tolerate these acts against our places of worship or any individual in our county."
Jones, who has stated his gratitude for the community's support for his church, reiterated his appreciation on Friday for letters the church has received from people "praying for us and expressing their support, even in our pain, and recognizing our pain and praying for our healing to begin."
Donations have totaled $10,000, he said, and in-kind donations have included new equipment, such as television screens that will again allow the older parishioners with limited vision to see the order of service more easily than with handheld programs.