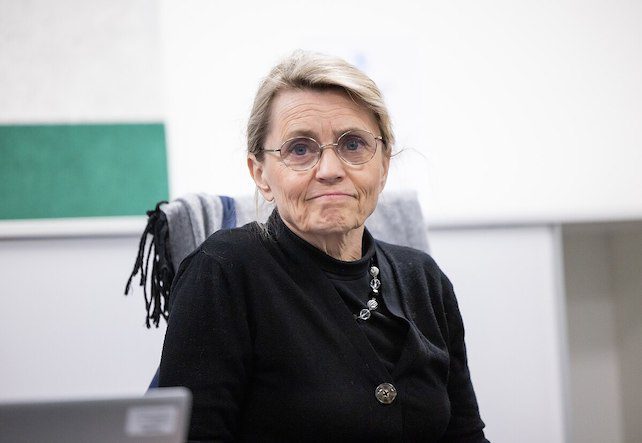 Dr. Päivi Räsänen, a longtime Finnish politician, pastor's wife, and outspoken Christian, is on trial again for allegedly using hate speech. On Aug. 31 and Sept. 1, the Helsinki Court of Appeals is hearing testimony in a religious-rights case that has attracted international attention.
Charges against Räsänen, a 62-year-old medical doctor and grandmother of seven, stem from her support of biblical marriage and her social media posts that included Scripture verses. In March 2022, a Helsinki District Court ruled unanimously to dismiss charges against Räsänen.
But state prosecutors appealed, continuing the four-year legal ordeal for Räsänen. The former Minister of the Interior has been a member of Finland's Parliament since 1995 and belongs to the Christian Democratic Party. Prosecutors are using a portion of the country's criminal code that references "war crimes and crimes against humanity."
Finland Politician Päivi Räsänen Charged With Hate Speech
Back in 2004, Päivi Räsänen wrote a pamphlet titled "Male and Female He Created Them: Homosexual Relationships Challenge the Christian Concept of Humanity." Then in 2019, she questioned why leaders of her denomination, the Evangelical Lutheran Church of Finland, were sponsoring a Pride Month event. In a social media post addressed to church officials, she included an image of Romans 1:24-27.
During a 2019 radio interview about the controversy, Räsänen described same-sex relationships as a genetic deviation from God's original creation. When the politician was on trial the first time, Reuters called her case "unprecedented," saying the court was deciding "whether citing the Bible can be considered a crime" in Finland.
Räsänen said she was "distressed" to learn that her church's policy "was strongly at odds with the teaching of the Bible, as Pride celebrates things that are declared shameful and sinful in the Bible." Instead of leaving the church, she said she wanted to stay to "influence" its members. "The more Christians keep silent on controversial themes," Räsänen said, "the narrower the space for freedom of speech gets."
Finnish prosecutors, who have compared the Bible to "Mein Kampf," said in court on Aug. 31 that "the point isn't whether [the defendant's speech] is true or not but that it is insulting." They called Räsänen's use of the word sin "degrading" because it violates "sexual rights."
Finnish Politician Defends Religious Speech
Päivi Räsänen, who has faced extensive police interrogations, said, "The content of my writings and my speeches represents the classical Christian view of marriage and sexuality, the same as the churches have generally taught for two millennia." She refuted the notion that she is insulting or slandering anyone, saying instead that the prosecution "openly attacks the core teachings of the Christian faith."
Räsänen has promised to "remain steadfast," saying she'll take her case to the European Court of Human Rights, if necessary. The politician is being represented in court by Alliance Defending Freedom International. Paul Coleman, the organization's executive director, is posting trial updates on social media and requesting prayer.
Coleman, author of "Censored," wrote, "The purpose of enumerating fundamental rights is to protect citizens against the state, not to be used by the state against its own citizens!"