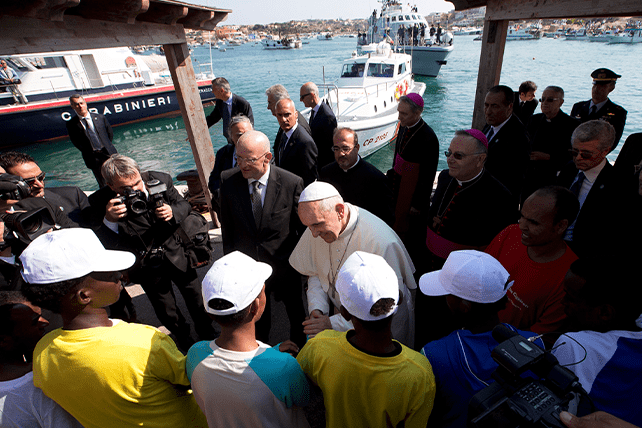 VATICAN CITY (RNS) — When Pope Francis visits the southern French city of Marseille this weekend (Sept. 22-23), he is expected to deliver an appeal for welcoming migrants and refugees — not just to France, but to anyone in the world listening.
Migration "represents a challenge that is not easy, as we can see from recent news," the pope said while announcing his trip during his weekly prayer service on Sunday. "But we must face it together because it is essential for the future of us all. We will only be prosperous if we build on fraternity, prioritizing human dignity and real people — especially those most in need."
The pope will be in Marseille to attend the Mediterranean Meetings, a Catholic-sponsored gathering of 60 religious representatives from different cultures, backgrounds and countries in the Mediterranean area. The event has taken place twice in previous years in Italy but this year a group of 60 young people will also be present.
The pope's 30-hour trip to France's second largest city makes a greater point about Francis' determination to prioritize people on the margins. During an exchange with journalists on the papal flight returning from his trip to Mongolia Aug. 31-Sept.4, the pope stressed that he is specifically visiting the city of Marseille, not France as a whole.
Pope Francis has avoided visiting centers of political power and influence, giving priority to the global peripheries. The pope's trip is comparable to his 2014 visit to Strasbourg, France, said Vatican spokesperson Matteo Bruni on Tuesday, which focused on international rather than local issues.
Marseille is a crossroads of diversity in France, with a high percentage of Muslim, Jewish, Eastern Christian denominations and Buddhists. It is also an important stop in the the flow of immigration passing through Europe from Italy.
Migration has been a key concern of Francis' papacy since the beginning. His first trip as pope, 10 years ago, was to the Italian island of Lampedusa, which at the time was struggling with an influx of migrants that continues — in recent days, the number of immigrants there has exceeded the number of citizens.
The pope's visit to Marseille occurs just as a new wave of refugees hits the Mediterranean coasts of Italy and political leaders in Europe argue about who should shoulder the responsibility of welcoming them. The number of immigrants reaching the Italian coasts in 2023 has doubled compared with last year, according to United Nations estimates. Most are North African refugees; many are fleeing political unrest in countries such as Mali, Niger and South Sudan, while others are seeking better economic prospects.
"I won't allow Italy to become the refugee camp of Europe," said Italian Prime Minister Giorgia Meloni, declaring war on human traffickers, on Wednesday.
France and Germany have responded by closing borders with Italy, leaving the country alone to handle the influx of migrants from North Africa. The pope's visit will attempt to pull at the heartstrings of Europe to promote a shared responsibility for migration flows.
After a welcoming ceremony at the local airport on Friday, Francis will meet with members of the diocesan clergy at the Basilica of Notre Dame de la Garde before meeting with representatives of local organizations working to resettle and integrate migrants.
In the afternoon he will deliver a speech at a gathering of religious leaders from Marseille. The interreligious moment of reflection will take place at the memorial dedicated to migrants who have died at sea. About 2,300 migrants have died in the Mediterranean Sea this year alone, according to U.N. estimates.