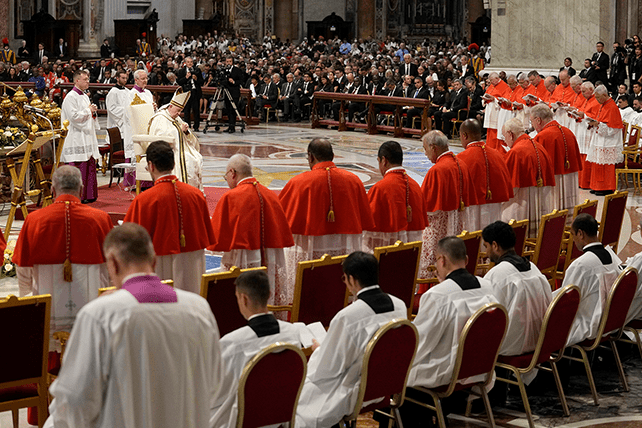 VATICAN CITY (RNS) — Pope Francis will create 21 new cardinals on Saturday (Sept. 30), solidifying his own priorities and signaling his hopes for his successor's at a consistory called to coincide with next month's Synod on Synodality.
Consistories, the gathering of church leaders where cardinals' red hats are awarded, are always an exciting time at the Vatican. Bishops, besides being plucked from their local realities and placed on a world stage, are also invested with the power of electing — or becoming — the future pope.
But this consistory has the added excitement of taking place just as Francis' nearly monthlong synod gets underway, calling more than 450 Catholic clergy and laypeople to discuss how to reshape the structure of the church while overcoming divisions and polarization.
The new cardinals, from as far away as Bogota, Tanzania and Hong Kong, reflect the diversity of the 1.3 billion Catholics around the globe, with a special focus on Catholic communities on peripheries, whether geographically or in terms of power and wealth. Many share concerns for communion and reconciliation, but the most distinguishing factor seemed to be their insistence on dialogue in the face of deep political polarization.
Archbishop Pierbattista Pizzaballa, who will get his red hat Saturday, knows a lot about navigating divisions as the Latin patriarch of Jerusalem. Complicating the long-standing divide between Israelis and Palestinians in his see is a deeply conservative government led by Prime Minister Benjamin Netanyahu, which has emboldened far-right extremist groups to promote violence toward Christians.
"Becoming a cardinal in this period is also a responsibility because we have to be a voice," Pizzaballa told journalists at the Vatican on Thursday. "The Middle East and Jerusalem is not complete without Christians. We need our Christian voice to be heard.
"It's true that this government has maybe other perspectives or ideas and orientations, but it doesn't mean we can't talk," he added.
The Vatican, which established formal diplomatic relations with the Palestinian Authority in 2015, has historically supported a two-state solution for Israel and the occupied West Bank. Pizzaballa believes his work in the country is to build trust. "We have to work to build an attitude of trust as much as possible, without which it's impossible to talk about perspectives for peace," he said.
"We have 5 million Palestinians who are waiting for a solution," he added. "We are present both in Gaza and in West Bank working with both sides," he added.
Bishop Stephen Chow Sau-Yan of Hong Kong, who will also be made a cardinal on Saturday, is a leading voice for dialogue with Chinese authorities. A year ago the Vatican and Beijing renewed a controversial agreement on the appointment of bishops, which allows the Communist Party to propose candidates but grants the pope the final say. The deal has had a patchwork application in China, with Beijing moving slowly on new appointments and naming one bishop to a diocese not recognized by the Holy See.
Critics of the deal, who include Chow's predecessor, Cardinal Joseph Zen, believe that the deal inhibits the Vatican from condemning Beijing's human rights violations.
Chow insists that when he meets with officials of the People's Republic he will call for "more dialogue," taking into account the large, confusing and sometimes contradictory realities of Chinese bureaucracy.