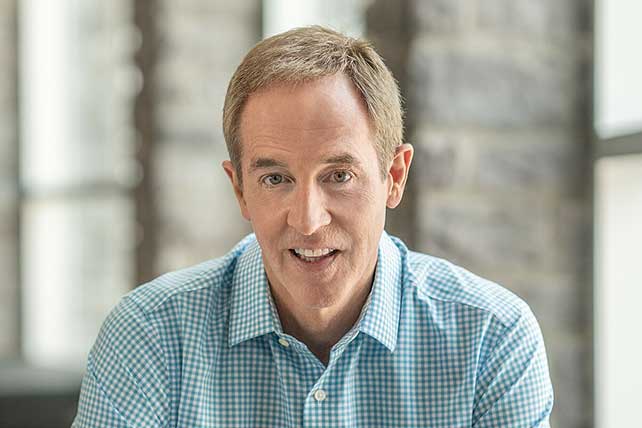 On Sunday, Oct. 1, pastor and author Andy Stanley addressed swirling speculation about his stance on gay marriage during a service that was not livestreamed. In the comments Stanley made Sunday morning, he publicly affirmed the traditional view that marriage is meant to be between one man and one woman while also emphasizing the need for compassion for those with LGBTQ+ identities.
Prior to Sunday's worship service, the pastor sent out an announcement explaining that he would be addressing why the church hosted the "Unconditional Conference" on Thursday and Friday and that there wouldn't be a livestream of the service this week:
HEY EVERYBODY, You may have heard about or been asked about a conference for parents North Point Community Church is hosting on September 28-29, the Unconditional Conference. A great deal of misinformation has circulated regarding the purpose of the conference, and I do not want you to be misinformed. So on Sunday, October 1, we're taking a break from our regular programming to talk about the conference and why we elected to host it. In light of the subject matter, we will not be streaming services online on October 1. If you plan to attend, and I hope you will, plan to arrive early. While the subject matter will not be kid-friendly, this is actually the perfect weekend to bring your kids because we are kicking off new content in all our children's environments. If you have no idea what all the fuss is about, good! Come anyway and I'll explain.
Stanley's Stance on Marriage Questioned
Last week, North Point Community Church in Alpharetta, Georgia, of which Stanley is lead pastor, hosted a two-day event for parents with LGBTQ+ children titled the "Unconditional Conference."
The conference was led by Greg and Lynn McDonald, who are founders of Embracing the Journey, a ministry birthed from their experience with having a gay child.
Stanley was also one of the conference's featured speakers.
According to the conference's website, the MacDonalds "are passionate about helping parents embrace their journey where true healing can occur." They use their two decades of "firsthand experience" to coach and counsel Christian parents with LGTBTQ+ children.
RELATED: 'The Problem Is Leadership' — Andy Stanley on the Decline of Religious Values in United States
The Unconditional Conference is described as a "two-day premier event…for parents of LGBTQ+ children and for ministry leaders looking to discover ways to support parents and LGBTQ+ children in their churches."
"We deeply desire this time will bring about healing and restoration. No matter what theological stance you hold, we invite you to listen, reflect, and learn as we approach this topic from the quieter middle space," the description adds.
Prior to the event, Southern Baptist Theological Seminary president Albert Mohler criticized Stanley on his podcast "The Briefing," saying that "the quieter middle space" is "illusory."
"I don't believe that the quieter middle space exists," Mohler said. "I can see why many might hope that it would exist. You might hope there would be a place which is not so confrontational, not so controversial, not so loud."
RELATED: Andy Stanley Trends on Twitter for Praising the Faith of Gay People Who Attend Church
"I believe this conference is anything but middle space," Mohler added, pointing out that two of the conference's scheduled speakers, Justin Lee and Brian Nietzel, are men married to other men.
Mohler said that Lee is "very well known for arguing for the legitimacy of monogamous same-sex relationships" and Nietzel gives seminars "on what is described as restoring LGBTQ+ faith."