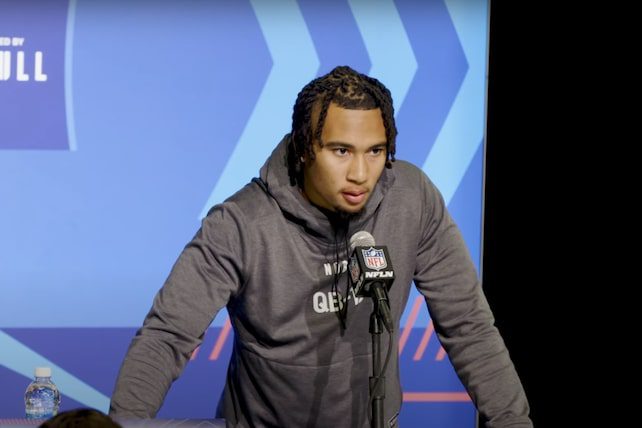 After a record-breaking day on the football field Nov. 5, Houston Texans rookie quarterback C.J. Stroud began a post-game interview by giving "all glory and praise to my Lord and Savior, Jesus Christ." In a comeback victory against the Tampa Bay Buccaneers, Stroud threw for 470 yards—a single-game record for a rookie QB. He also had five touchdowns and no interceptions.
RELATED: Texans Quarterback C.J. Stroud Emphasizes His 'Purpose To Spread the Gospel' During Post-Game Presser
The QB, who just turned 22, was named Offensive Rookie of the Month for September. Stroud, a Heisman Trophy contender at Ohio State, was the second-overall pick in the 2023 NFL Draft. For years, he has been vocal about his Christian faith and how it helps him face life's challenges.
C.J. Stroud on Using His God-Given Opportunities
After Sunday's 39-37 last-minute win, C. J. Stroud told a reporter, "First and foremost, man, I gotta give all glory and praise to my Lord and Savior, Jesus Christ." He continued, "I've been going through a lot, on and off the field, but when you give your life to the Lord, he gives you opportunities, and it's what you do with it." Stroud deflected compliments about his record-setting play, saying, "I do it for the glory of God."
"First and foremost, I got to give all glory and praise to my Lord and Savior Jesus Christ."

Texans QB @CJ7STROUD had a all-time game on Sunday and afterwards, deflects the glory and gives all praise to God. pic.twitter.com/VMtnX9AWFx

— Sports Spectrum (@Sports_Spectrum) November 5, 2023
As ChurchLeaders has reported, Stroud has long relied on his faith through difficulties. His father, a former pastor, began serving a 38-year prison sentence in California while Stroud was in middle school. That led to financial hardships and housing insecurity for Stroud's family.
During adolescence, Stroud's faith "kind of withered," he admitted. But "after I found Christ for myself, it just helped me out so much." At Ohio State, Stroud had a life-changing encounter while attending worship with a teammate. He experienced "a better feeling than winning a football game" and realized, "This is what I really want."
During an interview while in college, Stroud said he hopes to inspire preteens and teens because that's such a "pivotal point" in life. "I want to encourage young kids to not go down the world of negativity," he said, "or of selling drugs or gangbanging or doing dumb things of that sort, and try to find their avenue of positivity."
QB C.J. Stroud Wears 'The Armor of God'
In previous interviews, Stroud has addressed his personal challenges, crediting God with helping him navigate them all. God "prepared me for this moment," he said after being drafted. "God has battle-tested me… He's scarred me, so I've been battle-tested. I have the armor of God on me."
After his first pro win on Sept. 24, the Texans QB called pressure a "privilege," saying he's blessed to be in his position. "I'm blessed enough to wake up every day and to walk, to talk, to smell, to interact with people, to play football," he said.