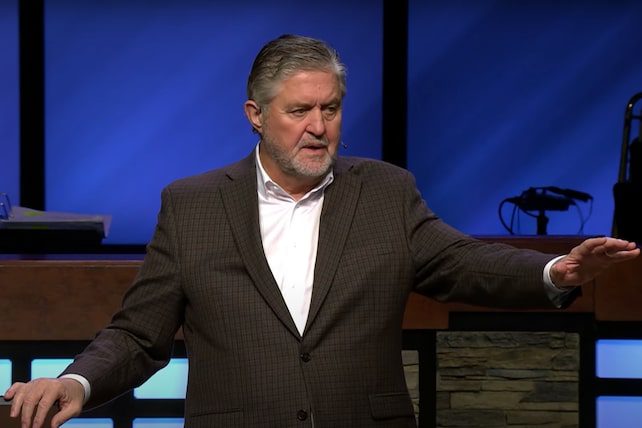 In a personal announcement to congregants at the end of worship on Sunday, Nov. 19, Tennessee pastor Steve Gaines revealed he has been diagnosed with kidney cancer. Standing with his wife, Donna, the senior pastor of Memphis-area Bellevue Baptist Church said he is working with "a great team of doctors." He added, "We hope that you will just keep us in your prayers."
Gaines, 65, has served at Bellevue, one of America's largest Southern Baptist Convention (SBC) congregations, since 2005. Before that, he ministered at other Baptist churches in Tennessee, Alabama, and Texas. From 2016 to 2018, Gaines served as president of the SBC. The graduate of Union University and Southwestern Baptist Theological Seminary also is a former president of the Tennessee Baptist Pastors Conference.
Gaines faced controversy in 2006 when he remained silent for six months after learning that a leader at his church had previously sexually abused a child. Gaines later admitted he made an error in judgment.
Pastor Steve Gaines: 'Keep Us in Your Prayers'
Pastor Steve Gaines, who preached the sermon at Bellevue on Sunday, informed worshipers he had received the diagnosis on Friday. He said he'll be going to MD Anderson Cancer Center, a world-renowned medical facility in Houston.
After the brief announcement from Gaines, Associate Pastor Drew Tucker asked Bellevue elders and staff members to gather around their leader for prayer. "Church, this is a time to rise up," said Tucker. Then he read James 5:13-16, about praying for and anointing the sick.
Next, Bill Street, Bellevue's minister of prayer, led congregants in prayer for Gaines. "Their lives are in your hands," he said, asking God for physical healing. Street noted that Gaines has "told the story countless times about his mom, being scheduled for that second operation, and calling it off because the cancer was gone."
When Tucker returned to conclude the service, he noted that Gaines "had already planned to be out of the pulpit for the next couple of weeks" and would be undergoing tests. He included a special word of thanks to guests "for giving us a family moment." An emotional Tucker added, "We're about the Bible, we're about Jesus, but we do have a family here. If you're looking for a church, go find you a family."
'Steve Is a Winner,' Says TN Baptist Leader
With Donna, his wife of 43 years, Gaines has four children and 16 grandchildren. His most recent book is 2016's "Share Jesus Like It Matters."
About Gaines' cancer diagnosis, Tennessee Baptist Mission Board president and executive director Randy C. Davis said, "I speak for our entire Tennessee network of churches when I say that we are praying for our friends, Steve and Donna, their children and grandchildren, and the Bellevue family." He added, "Pray for their journey battling cancer. Pray for wisdom as [Gaines] shepherds Bellevue while caring for himself."