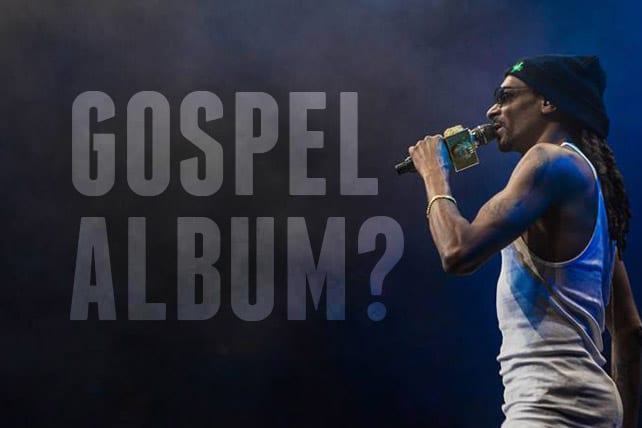 The infamous rapper Snoop Dogg may not be the first person you think of when you think about Gospel music. That may change very soon, as the rapper is producing his first gospel album.
"It's always been on my heart, I just never got around to it 'cause I always be doing gangster business or doin' this or doin' that," the 45-year-old rapper said in a radio interview.
While it's not clear whether Snoop Dogg's voice will be on the yet-to-be-released album, it will feature singers like Patti Labelle. In an interview with Beats 1, Snoop mentioned other big names like Faith Evans, Charlie Wilson and Jeffrey Osborne.
Snoop Dogg the Gospel Music Producer (?)
The album (or probably, more likely, its producer) is bound to get some flack from the church. Snoop Dogg is no saint, in fact we don't recommend looking up his music videos or the rap albums he's made over the years. However, he is talented at mixing beats and his time in the music industry has allowed him to rub shoulders with some really talented gospel singers.
Snoop Dogg's mother has a vested interest in the album. Beverly Broads Green is an ordained evangelist whose work focuses on helping at-risk youth succeed in school. Snoop Dogg reached out to his mother to ask for her blessing on the album, which he received via text message. The rapper posted the text on Instagram as a way of announcing his intentions to go forward with the project.
Why Should the Church Care?
Herein lies the controversy that the church has stumbled over time and again: How do we react to celebrities who thank God for awards or name their children after Bible characters or claim their faith pulled them through a difficult time, and then turn around and live a "Hollywood lifestyle"?
Could it be that this man, who has walked a hard road and has produced some of the most questionable content our culture has seen these last couple decades, is seeking God? I think it's entirely possible—perhaps even plausible considering he has a mother, active in the faith, who is praying for him and has likely been praying for him from the start.
An Opportunity for the Church
I think it matters how the church responds to the album. There are a few things I hope we can keep in mind as the album releases and people start talking about it. One of which being there are going to be Snoop fans who don't know Jesus and will listen to the album. Let's not turn them off to the church by criticizing the album or its producer.
This album may also present an opportunity for the church. While other rappers like Lecrae or Kirk Franklin may have a more Christian audience, Snoop doesn't necessarily. Which means people who have never heard gospel music may hear it for the first time. They may be moved to find out more about Jesus and his church through this music. They may even come to visit your church.
The question is: What will they find when they come? Judgmental people who care more about what they were smoking in the car than they do about the state of a fellow human being's soul? Or will they find the compassion of Christ in another person?
I hope we can answer this question correctly, Church. I hope we can hope the best for Snoop and his family. I hope we can get over ourselves and the rules we sometimes care about more than the people who break them. Most of all, I hope Snoop finds the love of Christ in His people and in the words he is producing.