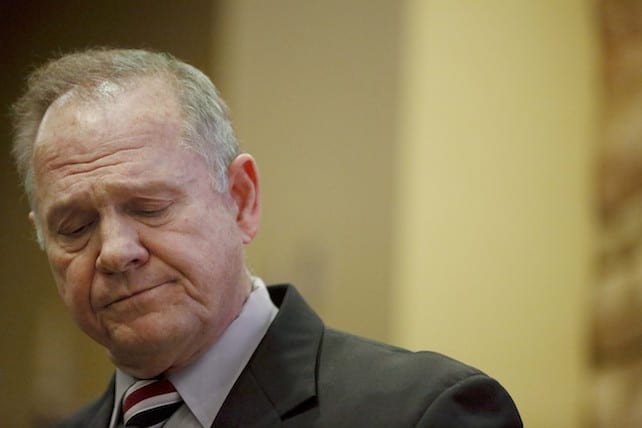 Battle lines appear to be forming in the church over Roy Moore, the Christian, former Alabama judge and Republican nominee for the United States Senate who has been accused of dating 14 year-olds when he was 30 and making unwanted sexual advances on some of them.
Russell Moore, President of the Ethics and Religious Liberty Commission, and no relation to Judge Moore, took to Twitter this week to slam evangelicals who are standing by the candidate in spite of the allegations.
It appears he has no shortage of targets. A new poll found nearly 40 percent of evangelical Christians in Alabama say they are now more likely to vote for Moore after multiple allegations that he molested children.
Perhaps it is the continuation of a trend discovered during last year's presidential election when the Public Religion Research Institute (PRRI) found white evangelicals are growing more accepting of a politician's personal indiscretions.
POLITICS INVADING THE PULPIT
Is it a sign Christians are putting politics over the Gospel? Russell Moore seems to think so. He tweeted, "Christian, if you cannot say definitively, no matter what, that adults creeping on teenage girls is wrong do not tell me you stand against moral relativism." In another tweet he wrote, "Evangelical Christians ought to be the most dogged opponents of sexual predation and violence in the universe. The Bible tells us so."
Daniel Akin, the president of Southeast Baptist Theological Seminary and author of "A Theology for the Church" responded, "I for one am very grateful for the brave women coming out and speaking about sexual abuse. I am ashamed of men for acting like irresponsible animals. A real man will always treat a lady with respect."
Christian speaker Beth Moore, also no relation to Roy Moore, entered into the conversation on her twitter feed writing, "Got 1 last thing to say this AM. I breathe by the power of the cross. I believe in complete forgiveness. Immeasurable grace. I'd be destroyed without it. Got no stones to throw. I also believe Matthew 3:8. There's fruit of repentance. It shows up in a changed life & humble heart."
She followed with another warning to Christians putting politics ahead of Christ tweeting, "It's been a harrowing trip to Oz for many evangelicals this year, the curtain pulled back on the wizards of cause. We found a Bible all right, seemingly used instead of applied, leveraged instead of obeyed, cut and pasted piecemeal into a pledge of allegiance to serve the served."
DO YOU BELIEVE JOSEPH OR POTIPHAR'S WIFE?
But for the others this is not a question about excusing sexual molestation, it's about not rushing to judgment in an age when character assassination for political gain can be summed up in the question "Do you remember the Duke Lacrosse team?"
On that side of the aisle is Christian politician Paul Nehlen from Wisconsin. He responded to Russell Moore's tweets asking, "May I ask you Dr. Moore, have you privately discussed with Kayla Moore (Roy Moore's wife) as she stands by her husband or does your thirst for power prevent it?
Nehlen is joined by The American Family Association's Bryan Fischer, host of the group's "Focal Point" radio program. In an editorial on the AFA website he wrote, "This sad story is yet another example of opponents of conservatives saying investigations must be pursued and verdicts must be rendered based on "the seriousness of the charge," not based on the credibility of witnesses or actual evidence."
Meanwhile, 53 pastors have signed a letter of support for the embattled candidate although some press accounts say not all of the signatories gave their permission to be added.
Civil wars are costly, hard to end and rarely are civilians spared. Let's hope in this brewing battle truth and the Gospel escape unscathed.