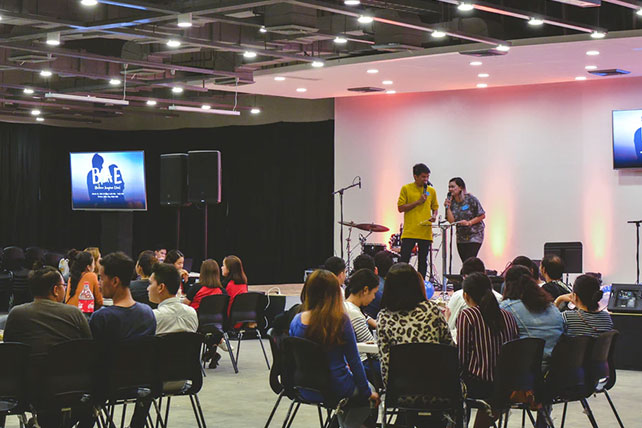 Over the years, I've had a number of church planters ask me about the launch. After all, it's one thing to take over an existing church, but something altogether different to start from zero and build something new—especially in today's culture. Most of these church planters are convinced that the right marketing plan or social media campaign is all it takes to do the job—but sometimes, old school techniques work the best. So I decided to ask a few friends who are pastors of amazing churches how they found their "first 50" people. Today, many of these churches have grown so much they have multiple campuses, but at some point, they started with nothing but their own family. How to you find that first 50?
Here's their advice:
Craig Groeschel – Senior Pastor, Life.Church in Oklahoma City:
Pastors might ask, "What's the secret of getting the first 50 people to be a part of your core group for a church plant?" I'd suggest a slightly different question. Instead of just focusing on the first 50, I'd also suggest gathering the right 50 people. Because there is such a thing as the wrong 50. This isn't to imply that some people are wrong in general. They just might not be the best to launch a healthy ministry. If a pastor gathers 50 hurting or angry people, these wounds or toxic emotions might create the wrong culture.
When possible, the planting pastor will do well to find "early adopters" who come with a contributing and future-oriented mindset. The pastor can usually identify or attract those types of spiritual leaders with a strong, clear, and compelling vision for the type of church they want to create. Instead of just hoping to gather fifty people, think about gathering fifty people are who passionate about creating a life-giving church that impacts the community and beyond.
Sam Rodriguez – Senior Pastor, New Season Christian Center in Sacramento, California:
The first 50 begins with the first 12. Yes, Jesus created this model but throughout the course of human history a number of studies have proven that if we are able to attract 12 diverse individuals each reflective of the overall communities we desire to reach, our short term and long term membership objectives will be met. Simply stated, begin with a group of people that reflect the community you desire to reach.
Second, at the end of the day, it's all about the message. Make certain your message speaks to the heart, the head and the hand of individuals, families and needs. In other words, convey a message that inspires, informs and imparts hope, faith, truth and love. A life-changing message with cutting edge marketing will lead to enthusiastic membership.
Bil Cornelius – Senior Pastor, Church Unlimited in Corpus Christi, Texas:
As far as the first 50, I went door to door and business to business to build relationships. My first person was our apartment realtor, then two couples from a sponsor church loaning me office space joined up. Then I began group meetings on Sundays and preached like there were 100 people while there were six. I ended every meeting challenging everyone to bring someone as if there life depended on it, because mine did!!
Andre Butler – Senior Pastor, Faith Xperience Church in Detroit, Michigan:
One of the main secrets to getting the first 50 members of your church is also the secret to growing your church once it's started: Win by being a friend. Establish authentic, life-giving relationships with the people in your circle (esp. those who are far from God) and encourage them to be intentional about doing the same.
Statistics say that around 80% of people who chose to follow Jesus are brought to him due to a relationship with a friend or family member. Leverage the relationships that you and those connected to you already have. After all, that's one of the reasons God chose YOU to start the church and that he chose THOSE connected to you to help you do it. He was thinking about those closest to you that would need it. Once Jesus delivered the mad man of Gadara in Mark 5 he told him to go to his family and friends and tell them what he had done for them. Jesus set him free so he could also set his family and friends free. The same is true for us today.
Benny Perez – Senior Pastor, The ChurchLV in Las Vegas, Nevada:
The First 50 is really all about relationship not marketing. In other words begin with meeting your neighbors, people at the gym and people at Starbucks. We just began to meet people and then organically they asked why we moved to Vegas and we told them how we knew we were here to start a church. It was a few people we got to know and then they knew people who were looking for a church.
And remember to be a Church Planter not a Pirate! Be intentional about meeting people and not picking people off from other churches. Never forget, the harvest is great!
Mike Kai – Senior Pastor, Inspire Church in Honolulu, Hawaii:
To get to the first 50, it's like a startup. You have to have that "holy hustle" and be willing to get outside of your normal personality profile (whatever that may be) and be face-to-face engaging with everyone you meet. You need to go old-school and carry business cards, tip baristas, get into the marketplaces and common places where the people are. Social media marketing can help accentuate your efforts, but in my opinion, there's no substitute for being visible and prayerful as you launch.