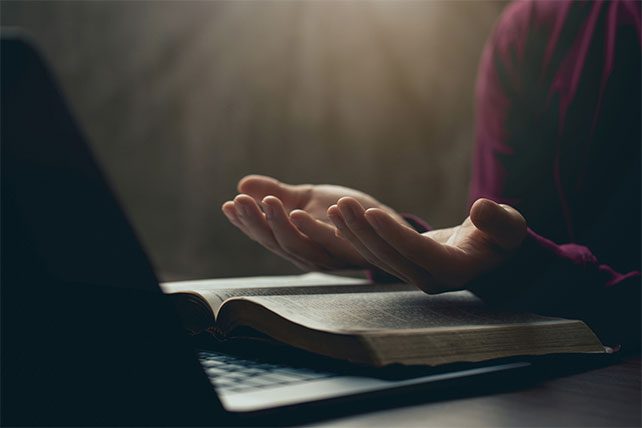 Here's a little questionnaire about full time ministry for you.
1. Do you call yourself a Christian?
2. Do you believe in the power of God's Word?
3. Do you believe the Bible is the inerrant and inspired Word of God?
If you answered yes to these questions, congratulations: You've just applied yourself for a life of full time ministry.
All Christians Are Called to Full Time Ministry
You might think, But I don't work at a church … But I don't work for a Christian company … But I don't have time to serve in ministry. If you claim to be a Christian, then the question of "the meaning of life" is already solved for you! The purpose of your life is to share the redemptive qualities of Christ (Matthew 28: 19). You are in the ministry. Galatians 2:20 reads,
"I have been crucified with Christ; and it is no longer I who live, but Christ lives in me; and the life which I now live in the flesh I live by faith in the Son of God, who loved me and gave Himself up for me" (NASB).
There is vital truth to what this verse states. It is no longer you who lives, but Christ who lives in you. Meaning, it's no longer about your agenda, your desires and your needs. If you call yourself a Christian, your agenda is now filled with an all-consuming calling from Christ himself to full time ministry.
That hits me pretty hard. All the selfish desires that you and I have should now be thrown out the window, and all focus trained on Jesus. Your current situation and workplace are your personal mission field. Why? Because you can reach people a church can't. You're on the front lines! You might even have a better opportunity to reach people than a missionary or church professional does. Don't let anyone tell you that full-time ministry can only be found within the confines of a church building. God is bigger than four walls and a steeple. God has put the people around you in your life for a reason. Find out what that reason is, and make it your mission to empower their lives with Christ. Jesus will always supply you with the necessary tools and weapons needed to conquer anything that comes in your path.
Full Time Ministry: Your Job Title Is Irrelevant
Your job title doesn't matter, but the way you use your time does. Stop letting people tell you that working for the government or for your company isn't God's plan for you. Stop allowing the opinions of man to keep you from being a light to your current workplace (Matthew 5: 14). Just because you may not have a seminary degree and a position serving in a local congregation doesn't mean you're not in full-time ministry. Jesus himself wasn't paid by a church. He was a carpenter who used his everyday knowledge of work and carpentry to relate to the people he was surrounded by. Yes, men like Paul and Peter dropped everything to follow the plans of Jesus, but don't forget about the thousands of other people who stayed where they were in order to be a light where it was needed.
The New Testament couple Priscilla and Aquila are perfect examples of this. Acts 18:2–3 tells us: [Paul] became acquainted with a Jew named Aquila, born in Pontus, who had recently arrived from Italy with his wife, Priscilla. They had left Italy when Claudius Caesar deported all Jews from Rome. Paul lived and worked with them, for they were tentmakers just as he was. We can see that both Priscilla and Aquila were tent makers who helped Paul on his missionary journey by allowing him to live and work with them in order to provide for himself. Their regular work flowed seamlessly into their ministry—a ministry that happened to help during one of the most critical points in Christian history. Tent makers, yes, but history makers too.
Step Out!
Step out and start vocalizing what God has put on your heart. If you're not willing to do it where you are, what makes you think you would do it somewhere else? When we think about work or vocation, there's always the issue of money—of getting paid for what you do. It's tempting to put earning a living before being in ministry where you are ("I need to focus on surviving before I focus on other people"), but God's logic is the opposite. I know people who make less than $15,000 a year and have thriving ministries. I also know people who make well over six figures a year and can't seem to find their ministerial fit.
Your paycheck, job title and spare time are irrelevant factors to whether or not God can use you. He looks at your heart, not your bank account. And he can use you right now. You have the option to change the world starting with the people who are standing right in front of you. If you don't reach out to them, who will? I wouldn't leave that up to chance, or give up the opportunity to make an unprecedented ripple effect on the world around you.
The ideology of every Christian embracing a lifestyle of full time ministry has the potential to transform the world from the inside out. It's a possibility that could truly reach the far ends of the world for the sake of the Gospel. Imagine if everyday people, working everyday jobs, meeting everyday customers, all shared the extraordinary salvation given through Jesus Christ. The potential is limitless.