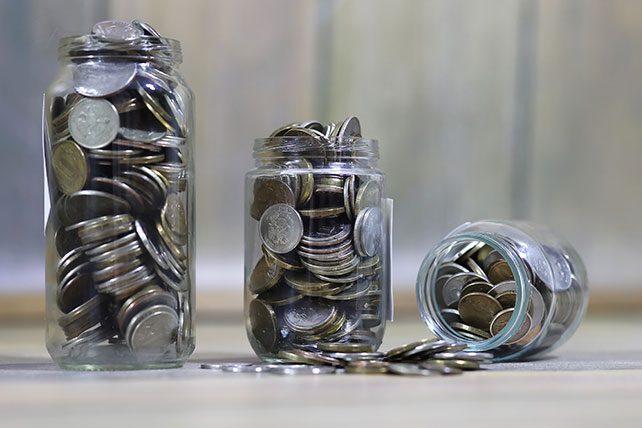 As we seek to cast a vision for real generosity, we need to first begin by asking ourselves if what we are doing is working. Are we treating the symptoms or addressing the heart? Are we engaging people in the conversation or pointing a finger at them? Some communities are more open than others to talking about generosity. Change can be hard. Evaluate where you are honestly, and consider these church stewardship ideas. Then take the next faithful step toward teaching your church how to be more generous.
Bad Church Stewardship Ideas: 4 Mistakes Churches Make
1. Missing the Heart of the Matter
As church stewardship ideas, exploding thermometers, pledge cards and fundraising goals don't address the heart of generosity.
I understand why people have used these tools to cast vision and show how each person's involvement makes a difference. "See how, if we all work together, we can reach our goal?"…but what it turns into is who gave the biggest gift and it limits the gifts that count to only the financial gifts. You can have a very successful campaign, reach your goal, collect a lot of commitment cards and never address the heart of giving. We have to get beyond cards and posters to the true heart of generosity. "For the Lord sees not as man sees: Man looks on the outward appearance, but the Lord looks on the heart." ~1 Samuel 16:7
2. Guilt isn't a good motivator for church stewardship ideas.
As church leaders, we are up close to the needs of our churches. We see the difference everyone's contribution can make in our effectiveness as a church. But when it comes to church stewardship ideas sometimes we can seem desperate or demanding in our call to give. Though we would all acknowledge that we don't want people to give out of guilt, when we focus more on the gift than the heart behind it, we can communicate the wrong message. God doesn't want our money. He wants our hearts, and true generosity can't be manipulated. Authentic generosity reflects Christ. "For you know the grace of our Lord Jesus Christ, that though he was rich, yet for your sake he became poor, so that you by his poverty might become rich." ~ 2 Corinthians 8:9
3. One annual stewardship sermon series isn't enough
.
I don't know when the annual stewardship series was born, but I wonder if it doesn't harken back to an agrarian society. Back then, it might have made sense to talk about generosity when people had the windfall of the harvest, but things have changed so much in recent years that it merits rethinking the practice with an eye toward new church stewardship ideas.
Today, it is too easy for acts of generosity to be more of a whim than a habit. It's not enough to talk about stewardship one or two Sundays a year and expect people to understand its importance. Developing the habit of giving takes time. "You shall teach them diligently to your children, and shall talk of them when you sit in your house, and when you walk by the way, and when you lie down, and when you rise." ~ Deuteronomy 6:7
4. People don't feel connected to the ask.
How do you make people feel a part of your church's vision? That's really the point, isn't it? We offer programs, opportunities and give impassioned pleas from the front to be involved, but in most churches 80 percent don't get involved. Why?
It's the difference between someone coming to you, taking your hand and asking for your specific help as opposed to a general call for help. In the latter case, it is easy to feel invisible in a crowd—even a small crowd—but when you are personally asked, it is harder to ignore. Likewise, when you know that you will be missed, when you feel an important part of the community, when you know your involvement has a direct impact on the success of an endeavor, you are more likely to show up and engage. "For as in one body we have many members, and the members do not all have the same function, so we, though many, are one body in Christ, and individually members one of another." ~ Romans 12:4-5