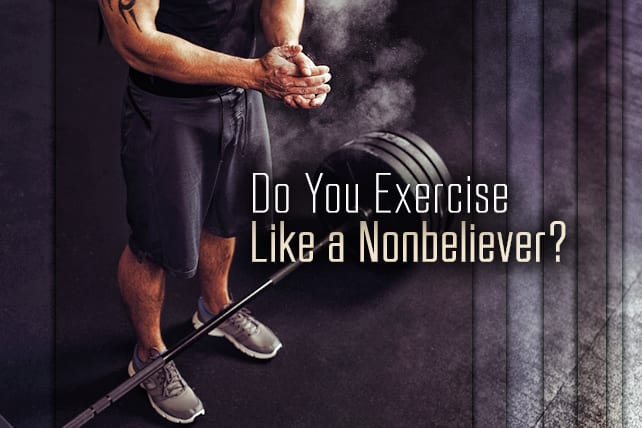 God made us to move, and to do so vigorously. And he wired our brains to reward and reinforce it with chemicals called "endorphins." Exercise makes happier humans.
Regular human movement has been assumed throughout history, but the innovations and seeming progress of modern life have made a sedentary lifestyle more normal than ever before. We've never needed to state the obvious about exercise as much as we do today.
Countless unbelievers experience and consciously enjoy the gift of exercise, but they do not adore Jesus or have the Holy Spirit. Should there be anything distinct about how a Christian exercises? How do we experience God's natural gift of exercise in such a way that we benefit spiritually?
Receive Exercise With Thanksgiving
Paul's charge in 1 Timothy 4:4–5 bursts with implications for authentically Christian living in God's wonderfully physical world. Here marital intercourse and everyday meals are in explicit view, but exercise is manifestly relevant.
Everything created by God is good, and nothing is to be rejected if it is received with thanksgiving, for it is made holy by the word of God and prayer. (1 Timothy 4:4–5)
Receiving exercise, and its joys, with thanksgiving begins with recognizing it as a divine gift and receiving it with gratitude. And gratitude is directed toward a Giver.
It is all too easy for those of us who are still relatively intact physically, and enjoy some measure of good health, to fail to marvel that we can walk for half an hour, or even run several miles. In this fallen and cursed creation, many great saints are terminally kept from the pleasures of God in exercise. Disabilities abound in this age.
But God's grace is sufficient for our thorns (2 Corinthians 12:9), and he has his alternate ways of communicating natural pleasures to inhibited people. One dear brother I know more than makes up for every mile he doesn't run with a monstrous belly laugh, the kind of laugh only known by those who have suffered greatly.