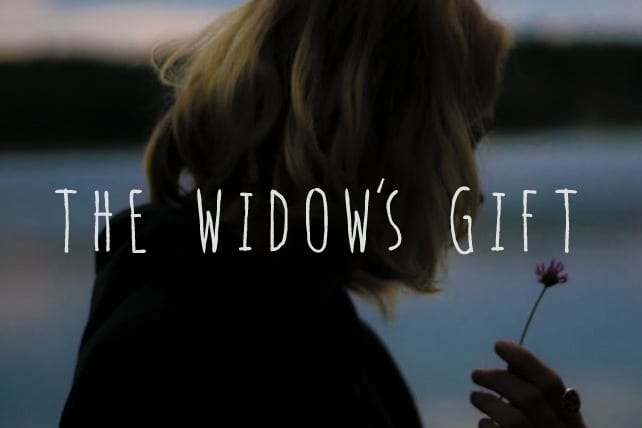 Imagine what it was like for her, just her and her little boy. Her husband had died, and together, mother and son were starving to death.
They were victims of a widespread famine, and there was no place to go and nothing to do about their plight. She had faced the reality of their coming demise. She would take her little pot of flour and the little bit of oil she had left, gather some sticks, make a little cake, eat this final meal with her son and lay down to die.
What would you be thinking if it were you? What would you be thinking about God? What would you say to your son? And how would you respond if someone you didn't know came and asked you to give them the ingredients for your last meal on earth?
THE STORY
I want you to stop and read 1 Kings 17:8-24. Pretend that you're there. Put yourself in the shoes of the woman.
Sometimes I think we read the Bible too stoically. Sometimes I think we forget that the characters in the stories embedded in the Old Testament were people just like us. They had hopes and dreams; they believed and they doubted; they felt joy and experienced despair; they suffered real pain; they didn't know what was going to happen next.
THE WIDOW OF ZAREPHATH
Imagine the suffering of this woman—not only was she grieving the loss of her husband, but she was now forced to face that she and her son would die too. There was no denying the dire state that she was in. How could it get any worse? How could life be darker?
But what she didn't know was that God had chosen to shine the light of glorious life on her. God had already chosen for her to be part of something more wonderful than anything her broken heart could have ever imagined.
God had chosen this weak and broken lady to be part of something that would influence people of faith down through eternity. God had chosen to not only give her life, but to declare through her that he is the Resurrection and the Life.
The method of all of this would be an outrageous request, one that I honestly think I would have refused.
THE REQUEST
We meet the widow at the city gates, gathering sticks to make a fire for her funeral meal. A stranger, who we know as Elijah, asks her for a drink of water: "Bring me a little water in a vessel, that I may drink." (v. 10)
The widow's response to this first request amazes me. Why? Because she steps out of her own suffering to provide this man she doesn't know with a drink. Remember: Read the story like you're there.
Then Elijah takes his request even further. Shockingly, he asks this woman (who has nothing but a little flour and a little oil) to bring some bread with the water. I could imagine the woman screaming, "Bread? Are you crazy?! I'm all by myself, there's a famine everywhere, and you're asking me for bread?"
But the widow doesn't flip out or run away. She responds, "As the Lord your God lives, I have nothing baked, only a handful of flour in a jar and a little oil in a jug. And now I am gathering a couple of sticks that I may go in and prepare it for myself and my son, that we may eat it and die" (v. 12).
This is when the story turns. Elijah declares, "For thus says the Lord, the God of Israel, 'The jar of flour shall not be spent, and the jug of oil shall not be empty, until the day that the Lord sends rain upon the earth'" (v. 14). The story concludes with blessing: "And she and he and her household ate for many days" (v. 15).
MAKING A CHOICE
This is one of the many choices of faith that are all over the biblical narrative. Will the widow do what makes sense and keep the oil for herself and her son, or will she entrust the last thing that she has on earth to the care of the Creator of heaven and earth?
This dear widow, at the end of her rope, chose to make the prophet his requested cake. What would you have done? If we're honest with ourselves, many of us would have kept the ingredients to ourselves. By acting in faith, the widow not only made Elijah a cake, but she made a cake for her and her son, and she was able to make many meals for all of them because the flour and oil didn't run out.
The blessing of the endless flour is a physical picture that the Giver of Life had invaded her life by his grace. Long before she had eaten his provision, he had chosen her to not only experience life, but to be a instrument of the prophet's continuing life and ministry.
God often asks us to offer what is left to do with it greater than our little minds could ever imagine.
THE STORY ISN'T OVER
This story would be amazing enough if it stopped at verse 16. But it doesn't, taking a more dramatic turn than the reader would expect. All of the sudden, the widow's son is stricken with what seems to be a terminal illness; the physical signs in this passage would tell us that the boy was dying.
Why in the world would God allow this to happen? Does it make any sense to provide endless provisions for the boy's sustenance, and then allow him to die immediately afterward? Shouldn't God be rewarding the widow for her act of faithfulness? From a distance, it looks like a rather sick joke.
This isn't a sick joke; no, it's a divine calling! What do I mean by that? God has chosen this poor widow and her only son to be included in a a prophecy about the most significant event that would ever happen in history. God has chosen for her to be an actual living witness to death and resurrection.
Through the widow of Zarephath, God would declare himself not only to be the Giver of Life (in terms of making provision for the needs of his children), but as the Giver of Life who could do what no person could ever do—defeat death. What a picture!
The prophet lays himself on the body of the boy, cries out for God to give life to him, and the boy begins to breathe again so the prophet can deliver this son back to his mother. Again, put yourself on the scene of this story. How discouraging, then amazing, then depressing, then incredible must these moments have been for all involved!
OUR STORY
I would guess that most readers of PaulTripp.com have not experienced a famine of this magnitude, nor had a child raised back to life. So how does this story apply to our lives? It's vital to understand that this moment is not just a story in a book, but a prophetic moment for every child of God.
This moment of the death and life of the widow's son is a physical prophecy of another only Son who would die and who would rise again. Jesus would die, carrying our sins, but he would not stay dead. No, he would rise out of the tomb conquering sin and death, giving life to all who put their trust in him. The resurrection of the son of the widow is a historical finger pointing to the future resurrection of the Son of Man, the Lord Jesus Christ.
When she went out to pick up sticks for her last meal, the widow of Zarapeth had no idea of the incredible turn her life would take. It would not be her last day because what was lurking over her wasn't the shadow of death, but the Giver of Life, who would not only give her life, but through her preach life to all who believe.
And it all began with a stranger's seemingly outrageous request, followed by an act of faithful obedience.
This resource is from Paul Tripp Ministries. For additional resources, visit www.paultripp.com. Used with permission.