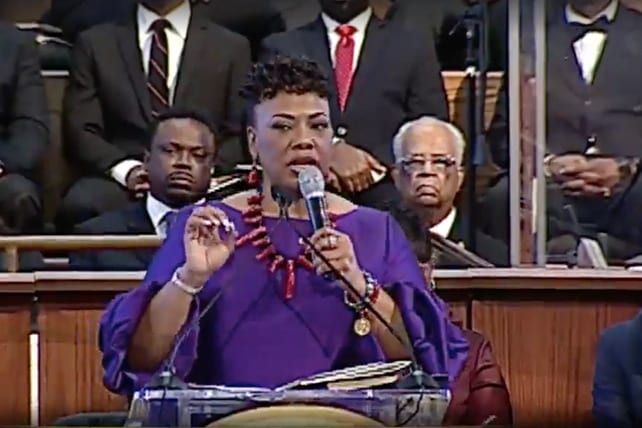 In 2018, Dr. Bernice King addressed the crowd gathered at Ebenezer Baptist Church in Atlanta to acknowledge the incredible example her father gave the world. The speech by Bernice King had a poignant message: In this day and age, if we don't learn how to live together we are not going to survive.
Martin Luther King Jr. addressed what he saw as the triple evils of his time: poverty, racism and militarism. Today, Bernice King translated those evils into words that dominate the current headlines: poverty, xenophobia and war. We are still fighting the same battles, she implies, just in a different climate.
"We are in a season now where the entire creation is earnestly waiting and expecting and groaning for the manifestation of the children God," the minister said.
Addressing the elephants in the nation
Addressing the ongoing division in the United States, Bernice spoke about feeling as if every year on Martin Luther King Jr. Day we're trying to address the same issues. But, Bernice believes addressing these issues is more important now than ever. Speaking to "those on the front line of the freedom and justice struggle," she used Scripture to encourage. "Do not grow weary in well-doing for in due season you will reap, if you do not give up" (Galatians 6:9). "Hold on to the truth. Hold on to the truth. Justice will roll down" (Amos 5:24), Bernice said, alluding to the verse her father famously quoted in his speeches in the 1960s.
The only way we're going to counteract the divisions in our country is through love. "The world needs, now more than ever, that love," Bernice said referring to her father's example of love in the face of hate.
Getting along with those with whom you don't agree
Bernice spent a sizable portion of her speech talking about living in a globalized world where we are sure to find people with whom we don't agree. Again drawing on the example of her father, who she described as very learned, there is "always or many times" truth in those we don't agree with. "I may not agree with you, but I have to open my mind and my heart to hear you. Because I might learn something."
Bernice described how her father studied many philosophies and even other religions and found pieces of truth in all of them. Although he didn't agree with everything they represented, he was aware that there was something to be learned.
"The only thing that divides us is a thing called sin. Sin separates us from God and each other," Bernice said. She then gave an example from her personal life.
"I went through a phase where I literally hated all white people. I especially hated white males. God had to do something in my heart. Because that hate had the possibility of turning into bitterness and causing that seed to turn inwardly toward myself and shut out the possibility of God bringing into my life good things. Hate separates. Hate divides."
Bernice said God began to bring examples into her life of good white men. One such man was an evangelical who supported Donald Trump: James Robison. While being interviewed by Robison, Bernice said he interrupted the interview to ask "Can I give you a hug?" Bernice recalls, "It was one of the most genuine hugs that I'd ever received in my life. God was doing a work inside my heart." As genuine as the hug was, however, Bernice continued: "Love does not ignore the absence of justice." What she believes the hug did was create the possibility for her to open her heart to love. "We have to make sure we cleanse our vessels of hate so we can do the work of God."
Getting along with those who think differently than you do is an even bigger task today, in what Bernice calls "our world house." Because of science and technology, we're more connected than we've ever been, which is putting us in contact with more and more people with whom we can potentially disagree. In order for us to survive and exist in this world house, Bernice said, we are going to have to learn how to live together as brothers and sisters or we will "perish as fools."
We are spiritual beings
Bernice said the Civil Rights movement was of the spirit of God. The participants followed the example of Christ's love by refusing to give in to hate. "If there had been hate in their hearts, then we would not have witnessed the coming down of…segregation."
We need to realize that we are spiritual beings first and foremost, Bernice said. It's more important for our spirit man to manifest than our "human inclinations" which lead to hatred. "God has no body," Bernice said. "His hands, feet…are people. God is calling out for vessels."