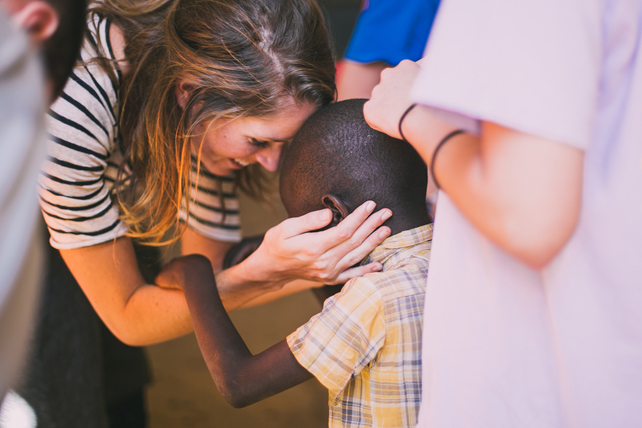 My family and I are wrapping up a three-week trip in France, visiting all of our Pioneers in Europe colleagues who serve in this region. It has been a joy to see our co-laborers in their specific ministry contexts.
Many of my teammates on the field are single women. This phenomenon is as old as Christianity—God has called many unmarried women into ministry, indeed far more than single men (80-85 percent of single missionaries are women!). Or maybe it's just that more women obey the call…but I digress.
I have had the privilege of working alongside many single women over the years in both Asia and Europe. I praise God for these women and I often marvel at their deep faith and fortitude, their ability to independently navigate cultures, sending agencies, churches, teammates, decisions, discerning God's call and so much more.
I am well aware that my single co-laborers bear unique burdens and also experience unique joys. I count them as heroes and thank God for how he uses them in ways and places that are out of my reach as a married missionary and mom.
During this trip I sat down with a few single female missionaries and texted and emailed a few more and asked them this question: What do you wish others knew about your life and calling? In other words, how can you help those of us in different shoes better understand your journey? In sum, how can we—friends, family, coworkers, teammates, sending churches, sending agencies, supporters—do better? Here are their answers, paraphrased and in no particular order:
I really appreciate it when people reach out to me unsolicited. This can be a text, email, phone call or even visit. It's so encouraging to know that others are thinking of me.
When people visit, it's helpful if they visit as a couple or group or team. It's awkward to host just one person. If they come with a friend or someone else, then I can enjoy quality time with them, but I don't have to feel obligated to show them around my town—they can sight-see together and then come back home to hang out with me. It decreases my burden in hosting.
It's huge when people remember my birthday. We singles don't have Mother's Day or Father's Day and often people don't think of us on Christmas (people tend to send packages to families with missionary kids on Christmas and other holidays). So whenever I get a card or a care package for my birthday or any holiday, it's a real treat.
When I am on home assignment, I really appreciate it when people invite me over. It's hard to create a social life back home when I'm only there every few years. Furlough can be lonely. It's nice when people extend invitations to me for special events or even routine things, like dinner at their place every Monday night.
I think there's a perception that single missionaries have a bunch of extra time on our hands. While it's true that we don't have to worry about investing in our marriages or our children, we  are stretched in other ways. While husbands and wives can divide and conquer the many responsibilities of living overseas or doing ministry, we are the only ones available to ourselves to take care of everything. Everything from visas and local taxes, to figuring out banking and post offices, to finding doctors and groceries, to dealing with landlords and national colleagues, to corresponding with our sending churches and agencies and supporters, to simply maintaining life here—we have to do all of that alone. It can be very draining. We don't have the extra energy and time that is often imagined we do.
It would be a blessing to have teammates or sending agencies ask if there's anything they can help me with. In my context I am responsible for recruiting new teammates to my city and that's very difficult. It's especially hard on top of all the above tasks. I would really appreciate them recruiting more on my behalf.
Because I am often alone in making big decisions (when to change ministry contexts, when to move on from a project, when to go on furlough, when to visit my sick parents) or in discerning where God is moving or calling me (should I pursue certain people with the gospel or let up on others, is God asking me to start this work or that work, etc.), it really helps me when others intentionally pray with me over such decisions. It's so valuable to have them seeking the Lord with me. I appreciate the confirmation that comes when others pray specifically and let me know what they think God might have for me.
I need extra grace from others when I am perhaps talking too much while processing a decision or something else that's going on. I don't have a constant companion to share things with and verbally work through issues with. When someone cares and engages in conversation with me, I may need to verbally unload. I appreciate the extra grace.
I need my mission agency and teammates to think outside the box. I don't know exactly what that might look like, or in what context. But I can say that often, when team issues arise, the knee-jerk reaction is to ask the single teammate to make a drastic change, rather than the other members of the team. The assumption is that it's easier for me to adapt alone than for a family to make an adjustment. While that may be true, and I am willing to consider it, I would like for my ministry efforts, skills and passions to receive equal consideration.
I eagerly invite all the single ladies to add to this list in the comment section if you're up for it. Tell us more: What should we know and how can we do better?
This article originally appeared here.