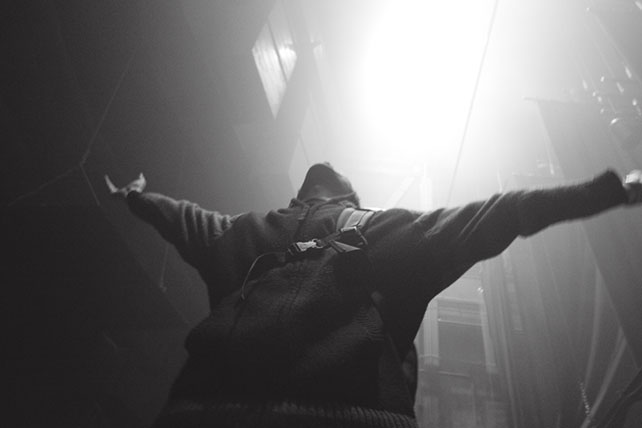 Through the story of Abraham (Gen 12:1-4), we see the beauty of God's call to us as individuals by name (John 10:3), which changes our status from unblessed to blessed.  To be called by name gives a special level of intimacy. We remember the scene of a distraught Mary Magdalene sobbing outside her Teacher's tomb. When the risen Christ appears to her, she mistakes him for the gardener, until he calls her name, and then she is overwhelmed with joy (John 20:16).
In these uncertain days of the COVID-19 pandemic with national and personal griefs, with mental strain and physical restrictions, we can find comfort in the assurance of a Savior who knows us by name. To be blessed is to enjoy such a relationship with God through the sacrifice of his Son. And God doesn't leave it there, he also places us in relationship with fellow believers.
Though many of us are prevented from gathering together on the Lord's day as we usually do, now is a good time to hold to the promise that, "where two or three are gathered in my name, there I am among them" (Matt 18:20). We can also rejoice in the technology that allows virtual expressions of church, while awaiting the day when we can once more meet together. In the meantime, we need to continue to live as God's blessed people.
As God's children, we are called to live distinctively. The purpose of the Law given to Moses was to mold God's people into a nation that was intrinsically different from the idol-worshiping nations around them. They were to live in a way that reflected the character of God, exemplified God's holiness, and appreciated the justice and deliverance they had received:
Justice, and only justice, you shall follow, that you may live and inherit the land the Lord your God is giving you." – Deuteronomy 16:20
Living differently meant being distinctive in worship (Ex 20:3-11), showing respect for each other (Ex 20:12-17), considerate of foreigners living among them (Lev 19:34), caring towards the poor (Lev 19:9-10), and being worthy custodians of the land God had given them (Ex 23:11). God's people living God's way.
Only be strong and very courageous, being careful to do according to the law that Moses my servant commanded you. Do not turn from it to the right hand or to the left, that you may have good success wherever you go. – Joshua 1:7
And these distinctive characteristics are to apply to God's people of any age. We too are called to live holy lives, as Paul and Peter encourage us to do:
…present your bodies as a living sacrifice, holy and acceptable to God, which is your spiritual worship. Do not be conformed to this world, but be transformed by the renewal of your mind, that by testing you may discern what the will of God is. – Romans 12:1b-3
…what sort of people ought you to be in lives of holiness and godliness. – 2 Peter 3:11
In addition to living distinctively, we are also to live rooted in God's Word, both individually and communally. The word "blessed" is used most frequently in the book of Psalms where two phrases are repeated: "Blessed is the one [man]…" (Ps 65:4) and "Blessed are those…" (Ps 84:4); both phrases are used to describe those who find delight in God's Word:
Blessed is the man who walks not in the counsel of the wicked… but his delight is in the law of the Lord, and on his law he meditates day and night.  – Psalm 1:1-2
Blessed are those whose way is blameless, who walk in the law of the Lord! Blessed are those who keep his testimonies, who seek him with their whole heart. – Psalm 119:1-2
A few years ago, I was visiting the site of a Roman fort as an archaeological dig was taking place. One of the volunteers pulled an artifact from the ground; delighted at his find, he held it aloft, before bringing it over for us to see. He had taken the time to carefully dig out a treasure hidden for 2000 years. In a similar way, the Bible too is a source of treasure waiting to be discovered when we take the time to do so.
As God's people, we are further blessed by the access we have to the throne of grace through prayer. When Jesus died, the curtain dividing off the holy of holies within the temple, was torn in two from top to bottom. This holiest of all places, which symbolized the presence of God among his people, and originally could only be accessed by the high priest once a year, was then opened for all. And so now, as the writer to the Hebrews encourages us:
Let us then with confidence draw near to the throne of grace, that we may receive mercy and find grace to help in time of need. – Hebrews 4:16
When I was teaching young children, I had a classroom with an external door. At the end of each day, when I saw a child's parent, I would call the child to go home. It was a joy to see those parents who bent down to the child's level, and held their arms open for the child to run to them. Our heavenly Father similarly waits to greet us as we run to him in prayer.
Luke concludes his Gospel by relating how the frightened disciples were locked away when the risen Christ appeared "…lifting up his hands he blessed them." The blessing that had rested upon God's people in the Old Testament he now extended to God's people of the New Covenant, the Church. As Luke continued the story in the book of Acts (Acts 2:4), the disciples were empowered with the Holy Spirit to proclaim the good news of the risen Christ. Through Christ, the blessing of a restored relationship with God is extended to all the nations.
Even in these anxious days, we can continue to know the preciousness of God's blessing resting upon us. And let's encourage each other to live distinctive, worshipful lives, in communion with God in prayer, enriched by his Word, and empowered by his indwelling Spirit.
This article originally appeared here.