Often, what sports fans see and hear while watching a game doesn't reveal the full story. What happens off the field frequently determines the results on the scoreboard.
Unfortunately, it seems the majority of those off-the-field reports focus on the negative actions of a few athletes. Arrests, cheating and generally bad behavior dominate the headlines. Little attention is given to stories about sports figures — especially those who are outspoken believers in Jesus Christ — who are a positive influence on teammates and communities.
Hall of Fame football coach Tony Dungy and James "JB" Brown, a pair of nationally known sportscasters, believe those positive stories should be shared. Over their careers, they met a number of athletes who were strong Christians and at the top of their game. Unfortunately, their testimonies did not make it onto television.
"So much of what we do in our respective jobs at the networks gets left on the cutting room floor," Brown says. "These guys have some very compelling stories."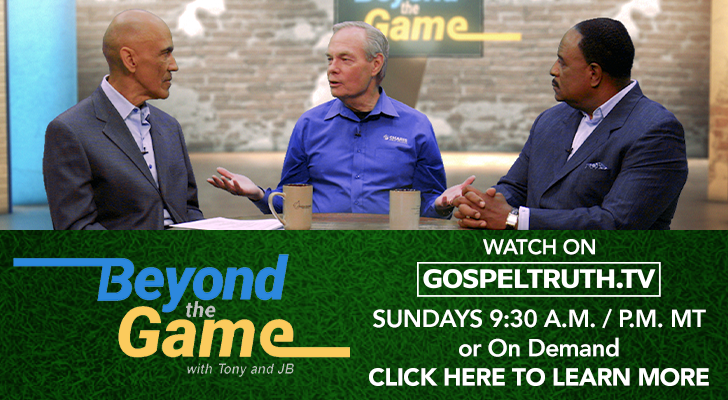 Together, they created Beyond the Game with Tony and JB, a sports interview program that broadcasts weekly on GospelTruth.TV, Andrew Wommack Ministries' internet television network. The show puts a spotlight on the character, humanitarian work and values that motivate athletes, coaches and other figures in sports.
According to Dungy, the show takes viewers inside the lives of players and coaches, revealing "what is important to these Christian athletes and what makes them tick."
Guests featured on Beyond the Game with Tony and JB include Heisman Trophy-winner Danny Wuerffel, National Football League Hall of Famer Anthony Muñoz and current Indianapolis Colts coach Frank Reich. All guests share their testimony of faith, along with their successes and challenges as Christians on and off the field.
The first episodes of the series featured an in-depth interview of Dungy, a story Brown called "tender, touching and tough as nails."
"[Dungy] really epitomizes what these professional athletes and executives would like to be," Brown says.
Though millions of viewers may recognize Dungy from NBC's weekly Sunday Night Football studio broadcast, Football Night in America, it's unlikely most of them know his life story. Dungy's parents were teachers who raised their son to make good decisions in the face of adversity and make things better.
According to Dungy, when faced with a challenge of what to believe and which action to take, his father's advice was, "Don't follow the crowd; make a decision you think is going to be best."
Before moving to television, Dungy was known to football fans as coach of the Tampa Bay Buccaneers and Indianapolis Colts of the NFL. A pioneer in the coaching field, he learned his craft as an assistant under legendary coach Chuck Noll of the Pittsburgh Steelers.
Passed over for numerous opportunities to become a head coach, Dungy studied the book of Nehemiah with his team chaplain for two years to learn about leadership. He finally got his chance at Tampa Bay and quickly turned one of the worst teams in the league into a perennial contender.
He achieved a milestone in 2007 by becoming the first African-American coach to lead a team to victory in the Super Bowl. Though it was a culture-changing moment for racial equality, Dungy used the post-game interview to share his faith with an international television audience. After accepting the Lombardi Trophy on behalf of the Colts, the coach thanked God for his team's victory.
"I have to let people know my motivation," Dungy says. "Honoring the Lord first — that was the most important thing to me — and showing the world you could do that and win at the highest level."
According to Dungy, those values were instilled in him by his mother, who frequently instructed him through her favorite Bible verse, "What shall it profit a man, if he shall gain the whole world, and lose his own soul?" (Mark 8:36).
James Brown, rising from middle-class roots, graduated from Harvard University, where he was a three-time All-Ivy League selection in basketball. He also earned a place in the school's Hall of Fame. After briefly pursuing a professional career in the National Basketball Association, Brown turned his focus to broadcast journalism, where he found success and quickly rose through the ranks to an anchor position on national television.
For nearly 30 years, Brown has hosted NFL studio shows — for Fox and now CBS. Football play-by-play announcers frequently send viewers to "JB in the studio" for updates and highlights from games around the country. He also hosts Inside the NFL on Showtime and has served as a contributor to a number of news and sports programs on various networks.
As he conducted numerous interviews, Brown learned that those who reached the pinnacle of their careers often humbled themselves before God first. Now, with Beyond the Game with Tony and JB, he is free to share those testimonies with viewers.
According to Brown, "A good story is a good story, and it doesn't have to involve a 'big name.'"
The "big names" fans would recognize as successful athletes and outspoken believers started as "nobodies." They were influenced by everyday people who modeled a Christian life and put those lessons into practice on and off the field.
"God then rewarded them, putting them on that level," Brown says.
A three-time Emmy Award-winning broadcaster, Brown also has a heart for ministry and has served as a guest on Gospel Truth, Andrew Wommack's daily television broadcast. In 2009, he authored the inspirational and semi-autobiographical book Role of a Lifetime: Reflections on Faith, Family, and Significant Living.
Along with hosting Beyond the Game with Tony and JB, Dungy and Brown have been featured speakers at Andrew Wommack's annual Men's Advance event at Charis Bible College in Woodland Park, CO.
"What impresses me about them is their relationship with the Lord — that is the most important thing," Andrew Wommack says. "They climbed to the top of the ladder in other areas, but Jesus is what it is all about."
---
Beyond the Game with Tony and JB airs Sundays at 9:30 a.m. and 9:30 p.m. (MT) on GospelTruth.TV. The 24/7 internet television network also features a number of programs, including Andrew Wommack's daily broadcast, Gospel Truth. It is part of the mission of Andrew Wommack Ministries to take the Gospel as far and as deep into the world as possible.
For more information on Beyond the Game with Tony and JB and other programs, visit GospelTruth.TV. For more information on Andrew Wommack Ministries and Charis Bible College, visit AWMI.net and CharisBibleCollege.org.