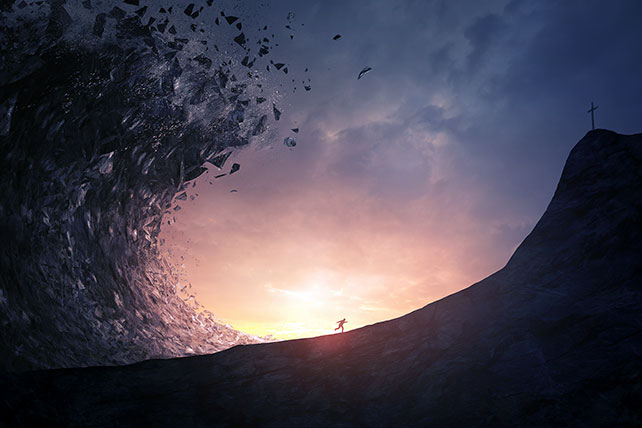 There will never be anyone who does more harm to your life than yourself.
Just by bringing sin into your life, you've done more damage to yourself than anyone else possibly could.
When we think of turning to God to protect us, we usually think of how God provides cover from external threats. But fortunately for us, God does great things to provide us with protection against the terrible things we would do to ourselves. Here are just eight ways God protects us from ourselves.
8 Ways God Protects Us From Ourselves
1. GOD TRANSFORMS US.
God best knows just how corrupt our minds, our hearts, and our desires really are. Without Him, they would always default to sin. So God offers to transform our minds and mold us into the likeness of His Son:
"Don't copy the behavior and customs of this world, but let God transform you into a new person by changing the way you think. Then you will learn to know God's will for you, which is good and pleasing and perfect," Romans 12:2.
"But that isn't what you learned about Christ. Since you have heard about Jesus and have learned the truth that comes from him, throw off your old sinful nature and your former way of life, which is corrupted by lust and deception. Instead, let the Spirit renew your thoughts and attitudes. Put on your new nature, created to be like God — truly righteous and holy," Ephesians 4:20-24.
God reconciles us to Himself through Christ, lavishing upon us His perfect love, His grace, and His mercy, all of which cushions us from our selfish, fleshly desires as He molds us into being holy as He is holy: "For God is working in you, giving you the desire and the power to do what pleases him," Philippians 2:13.
What greater way to protect us from the sin that ruins us than to be transformed from sinners into saints?
2. AN EDUCATION BY JESUS
From our own foolishness we rush headlong into the world and do harm to ourselves in many ways. What if Jesus Himself offered to teach us a better way of living? He does! Most of us likely miss in the following scripture an offer from Jesus for Him to be our teacher:
"Then Jesus said, 'Come to me, all of you who are weary and carry heavy burdens, and I will give you rest. Take my yoke upon you. Let me teach you, because I am humble and gentle at heart, and you will find rest for your souls," Matthew 11:28-29.
Jesus wants to teach us to live in such a way that doesn't harm us (or anyone else!), but helps us live holy lives that are pleasing to our heavenly Father.
3. A HOLY HELPER
To be able to understand this better life God has for us, and to have the power to live it, He provides us with the Holy Spirit as the perfect helper:
"But when the Father sends the Advocate as my representative — that is, the Holy Spirit — he will teach you everything and will remind you of everything I have told you," John 14:26.
"And the Holy Spirit helps us in our weakness. For example, we don't know what God wants us to pray for. But the Holy Spirit prays for us with groanings that cannot be expressed in words. And the Father who knows all hearts knows what the Spirit is saying, for the Spirit pleads for us believers in harmony with God's own will," Romans 8:26-27.
"When you follow the desires of your sinful nature, the results are very clear: sexual immorality, impurity, lustful pleasures, idolatry, sorcery, hostility, quarreling, jealousy, outbursts of anger, selfish ambition, dissension, division, envy, drunkenness, wild parties, and other sins like these. Let me tell you again, as I have before, that anyone living that sort of life will not inherit the Kingdom of God. But the Holy Spirit produces this kind of fruit in our lives: love, joy, peace, patience, kindness, goodness, faithfulness, gentleness, and self-control. There is no law against these things! Those who belong to Christ Jesus have nailed the passions and desires of their sinful nature to his cross and crucified them there. Since we are living by the Spirit, let us follow the Spirit's leading in every part of our lives," Galatians 5:19-25.