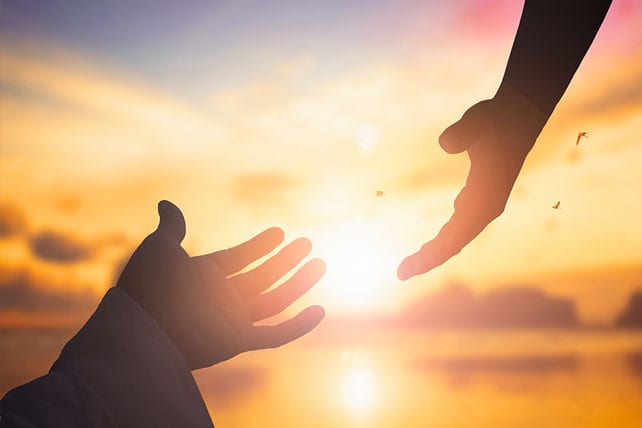 Every pastor should be a herald of God's love. His toolkit should include famous quotes about God's love, because it rests at the very heart of the gospel. Pastors should be ready at any moment to encourage the down-hearted and strengthen the weak. We should be able to soothe the worries of those who need reminding. Just in case your toolkit needs a little beefing up, here are some encouraging (and famous) quotes about God's love.
19 Famous Quotes About God's Love
1. "God loves each one of us as if there were only one of us to love." (Augustine)
2. "While God is not pleased with my sin and may discipline me in order to turn me from destructive paths and practices, His love for me does not diminish in any degree. He gave himself for my sins in their entirety, so that I might have His love in its entirety… Accepting this reality of God's unchanging regard is necessary for us to make progress in the Christian life." (Bryan Chapell)
3. "In Himself, God is love; through Him, love is manifested, and by Him, love is defined." (Burk Parsons)
4. "Christ died not in order to make God love us, but because He did love His people. Calvary is the supreme demonstration of Divine love. Whenever you are tempted to doubt the love of God, Christian reader, go back to Calvary." (A.W. Pink)
5. "He loved us not because we are lovable, but because He is love." (C.S. Lewis)
6. "Is it a small thing in your eyes to be loved by God – to be the son, the spouse, the love, the delight of the King of glory? Christian, believe this, and think about it: you will be eternally embraced in the arms of the love which was from everlasting, and will extend to everlasting – of the love which brought the Son of God's love from heaven to earth, from earth to the cross, from the cross to the grave, from the grave to glory – that love which was weary, hungry, tempted, scorned, scourged, buffeted, spat upon, crucified, pierced – which fasted, prayed, taught, healed, wept, sweated, bled, died. That love will eternally embrace you." (Richard Baxter)
7. "Nothing binds me to my Lord like a strong belief in His changeless love." (Charles Spurgeon)
8. "The great God not only loves His saints, but He loves to love them." (Jerry Bridges)
9. "The greatest sorrow and burden you can lay upon the Father, the greatest unkindness you can do to Him is not to believe that He loves you." (John Owen)
10. "I measure Your love for me by the magnitude of the wrath I deserved and the wonder of Your mercy by putting Christ in my place." (John Piper)
11. "There, in heaven, this infinite fountain of love — this eternal Three in One — is set open without any obstacle to hinder access to it, as it flows forever. There this glorious God is manifested and shines forth in full glory, in beams of love. And there this glorious fountain forever flows forth in streams, yea, in rivers of love and delight, and these rivers swell, as it were, to an ocean of love, in which the souls of the ransomed may bathe with the sweetest enjoyment, and their hearts, as it were, be deluged with love!" (Jonathan Edwards)
12. "God's love is active. He decided to love you when He could have justly condemned you. He's involved. He's merciful, not simply tolerant. He hates sin, yet pursues sinners by name. God is so committed to forgiving and changing you that He sent Jesus to die for you. He welcomes the poor in spirit with a shout and a feast. God is vastly patient and relentlessly persevering as He intrudes into your life. God's love actively does you good. His love is full of blood, sweat, tears, and cries. He suffered for you. He fights for you, defending the afflicted. He fights with you pursuing you in powerful tenderness so that He can change you. He's jealous, not detached. His sort of empathy and sympathy speaks out, with words of truth to set you free from sin and misery. He will discipline you as proof that He loves you. God Himself comes to live in you, pouring out His Holy Spirit in your heart, so that you will know Him. He puts out power and energy. God's love has hate in it too: hatred for evil, whether done to you or by you. God's love demands that you respond to it: by believing, trusting, obeying, giving thanks with a joyful heart, working out your salvation with fear, delighting in the Lord." (David Powlison)
13. "Perhaps we could call it 'contraconditional' love. Contrary to the conditions normally required to know God's blessing, He has blessed me because His Son fulfilled the conditions. Contrary to my due, He loves me. And now I can begin to change, not to earn love, but because of love." (Ed Welch)
14. "The only ground of God's love is His love. The ground of God's love is only and wholly in Himself."(Thomas Brooks)
15. "God's love is the most awesome thing about Him. It is not His justice, nor His majesty, nor even His blazing holiness, but the fact that He has made and keeps a covenant of personal commitment and love to His people." (Sinclair Ferguson)
16. "The great of this world are those who simply loved God more than others did." (A.W. Tozer)
17. "Love is not an affectionate feeling, but a steady wish for the loved person's ultimate good as far as it can be obtained." (C.S. Lewis)
18. "Joy is love exalted; peace is love in repose; long-suffering is love enduring; gentleness is love in society; goodness is love in action; faith is love on the battlefield; meekness is love in school; and temperance is love in training." (D.L. Moody)
19. "To the Christian, love is the works of love. To say that love is a feeling or anything of the kind is really an un-Christian conception of love. That is the aesthetic definition and therefore fits the erotic and everything of that nature. But to the Christian, love is the works of love. Christ's love was not an inner feeling, a full heart and what-not: it was the work of love which was His life." (Soren Kierkegaard)
These famous quotes about God's love can sustain us through any situation. They should become a part of our being, a part of our very breathing. What about you? When you exhale, do you breathe out famous quotes about God's love?