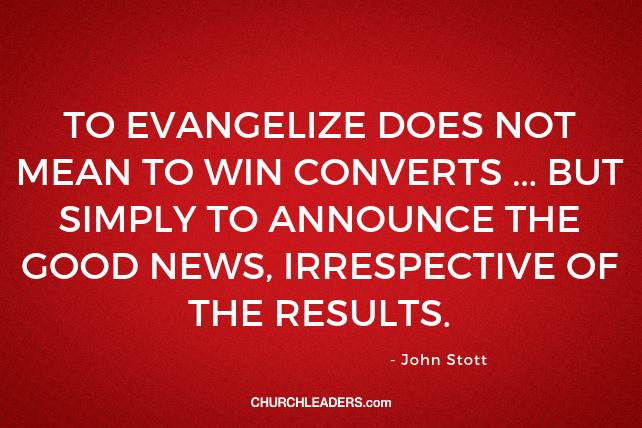 Is evangelism a thing of the past for the American church? It makes one wonder when 51% of churchgoers are unfamiliar with the term "The Great Commission," according to a new study from Barna. But according to Outreach Magazine's "100 Fastest Growing Churches" report, evangelism is alive and well!
To be crystal clear: The Great Commission is in Matthew 28:18-20 where Jesus gave His last directions to His followers before ascending to heaven: 
All authority in heaven and on earth has been given to me. Therefore go and make disciples of all nations, baptizing them in the name of the Father and of the Son and of the Holy Spirit, and teaching them to obey everything I have commanded you. And surely I am with you always, to the very end of the age.
That is the Great Commission! And the churches who have oriented everything they do around Jesus' command are experiencing phenomenal growth.
Every year, Outreach Magazine conducts its "100 Fastest Growing Churches in America" report in conjunction with The LifeWay Research team. To discover the state of evangelism in growing churches, ChurchLeaders studied the top-10 fastest growing churches. What we learned will inspire and equip you to focus on evangelism in your church as your #1 priority–for church growth and the kingdom of God!
Just a note: This is not a how-to article but rather an in-depth look at how church leaders develop a church evangelism strategy to effectively create a church culture for evangelism and how that culture for evangelism in partnership with the Holy Spirit results in the kind of dramatic life change that Senior Pastor Gene Appel from Eastside Christian Church in Anaheim, California, describes: "I love seeing the power of the gospel to change the lives of people from all walks of life, ethnicities, circumstances and backgrounds—who in turn become change-makers that God uses to transform more lives. It never gets old."
Evangelism: 12 Things We Learned From the Fastest Growing Churches
1. For a culture of evangelism, focus on JESUS.
"Early on, we discovered in our post-Christian, heavily Catholic city that if we pointed to Jesus, not to religion, Jesus would draw all unto him as he promises in the Bible," says Sonny Hennessy, executive pastor and marketing director at Life Church Green Bay in De Pere, Wisconsin. "Everything we do is filtered through the Great Commission of living out the life-giving message of Jesus, being 'Jesus with skin on' to all around us.
"We even call ourselves 'Jesus-people on this Jesus journey together,' just to remind ourselves to be more like Jesus every day. Jesus is attractive even to people who have been hurt by the church or who reject religion. Jesus and Jesus-people bridge a gap that pastors can't. We point people to Jesus and realize the church is a tool but not their source. This is new to people in a post-Christian or liturgical culture."
2. For a culture of evangelism, celebrate lives transformed by the gospel.
When people encounter Jesus, their lives are changed and that creates more fervor around the gospel.
"Our people have been awakened afresh to the beauty of Jesus and the real-life significance of what Jesus has done for us," says Wes Feltner, Lead Pastor at Berean Baptist Church in Burnsville, Minnesota. "Because of this renewal, we have a culture at our church where it is OK to not be OK. People come with real struggles, ready for real hope that can only be found in the gospel of Jesus."
Senior Pastor Dudley Rutherford from Shepherd Church in Porter Ranch, California, emphasizes: "We follow three principles in sharing the gospel. Finding people who are hurting and directing them to help. Finding people who feel hopeless and giving them the gift of hope. Finding men and women, teens and children who have never heard of Jesus Christ and introducing them to the Savior and Lord, so they may then find people and do the same."
3. For a culture of evangelism, focus on the simplicity of the Gospel.
The only time I heard Billy Graham speak in person I thought, "That's it?" I didn't realize at the time that I was experiencing Billy Graham's dogged devotion to the simplicity of the gospel: