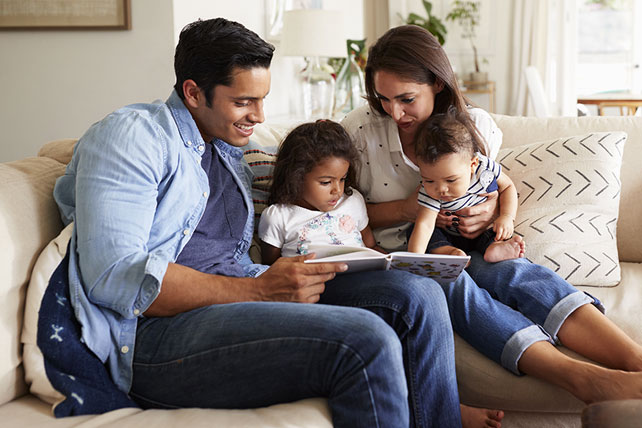 As pastors, leading at home is one of our primary environments of leadership and by far the most challenging. It's often a hard topic for men to even talk about because they don't know what to do or how to do it, have failed in attempts, or just lacked a healthy model in their home of origin. Combine this with the shame some men perceive from their spouse, children, and pastors, compounded with feelings of underperformance, and many give up. But giving up is not the right response; therefore, we must find good ways to grab hold of the baton we have so willingly dropped. We are called to lead in our homes but having the right spirit and doing it in the right way is very important.
5 PRINCIPLES FOR LEADING AT HOME
ONE | CORRECTLY UNDERSTAND STRONG LEADERSHIP
To become the man God wants you to be, you need to be a strong leader in your home. And "strong leader" does not entail a domineering, demanding, dictatorial, presence. A strong leader is humble both in spirit and in God- centered, confident will. He is a man who finds ways to influence his family by being a servant, not a dictator. Like Jesus, he will find ways to be strong when required and soft when needed. With each person in his home, he must find a voice that will influence and persuade, winning them over to God's will, not his own. As men, we are called to lead, but we should assert strength without breaking the spirits of those under our leadership. Sometimes strength demands a soft tone, subtle persuasion, and cunning wisdom that will entice a person toward God's will. Either way, this requires deep strength and personal confidence.
TWO | YOU'RE NOT SPIRITUALLY RESPONSIBLE,
BUT YOU ARE SPIRITUALLY OBLIGATED
We should always feel a great responsibility for the spiritual leadership of our home. As men, we feel an almost natural impulse to provide, and provision for our family is essential. God wants us to work to produce food, shelter, clothing, and basic needs. He has modeled this for us as the first provider. But we cannot limit this to natural provision. To provide for only a family's physical needs is to miss the greatest need: spiritual provision. And as our heavenly Father provided spiritually for us, we are called to provide spiritually for our family. But we must be careful because while we are responsible to our family spiritually, we are not responsible for our family spiritually. We are called to train and teach, but we cannot force anyone to believe in God. And this creates an unusual tension in spiritual leadership. We can pray and prepare, but we cannot push anyone to grow or believe in Jesus Christ. And it is often for this reason that many feel like a failure. But we should never misinterpret our roles when it comes to our spiritual responsibility. We are entirely responsible for our own choices, and we are also fully accountable for teaching and training, but we are not responsible for the independent decisions the people in our household make—even when we feel otherwise.
THREE | SANCTIFY YOUR WIFE
One of the great calls in spiritual leadership for the husband is to love his wife as Christ loved the church. And the way He did it was sacrificially, sanctifying her "by the washing of water with the word" (Eph. 5:25). Too many times we see ourselves in competition with our wives' leadership, or we are combative with her. But this is not the work of a husband. We are commanded to wash our wives in truth from God's Word, not beat them into submission. This requires a humility that recognizes you are not the truth— God is. Thus, you need to drive her to His truth, not yours.
FOUR | EMBRACE TEACHABLE
 MOMENTS BUT DON'T PREACH

Most men fail miserably at the first attempt of spiritual leadership. Maybe we think we should present a regular sermon to our family like those we receive at church. This is a commonly held misconception that you may be embarrassed to admit. While I know a few families that hold intermittent worship and devotional times with their families, many men feel ill equipped to lead these. And to be honest, most family members would rather not endure them. So instead, why not turn available moments into teachable moments. Take every moment you do have to share praise, take the opportunity to teach, share a moment from your past, or process something you are reading in God's Word. This does require active spiritual engagement and discipline, but that's good for you too.
FIVE | LEADING AT HOME IS ONE MOMENT AT A TIME
Think of leading at home one moment at a time. Consider each day how you can spur your family on toward love and good deeds. Refuse to see it as one moment and embrace it as a lifestyle of many moments. Your family will remember the insignificant things you do far more than those planned moments. Like the prayer in the car. The hug in the doorway. The prayer you prayed with them by phone. A listening ear. A thoughtful email. Help with homework. Each of these moments has the divine opportunity just teed up for us by God. Do one thing to lead your family spiritually.
This article is an excerpt from Vince Miller's book, 20 Lessons That Build a Man's Family