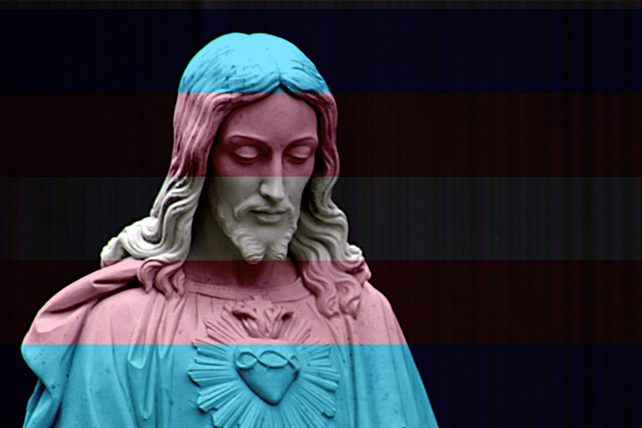 Just when you think a particular agenda can't be pushed any further—or in more ridiculously strained ways—you can still be surprised.
The latest is the claim that Jesus could have been transgender. Dr. Michael Banner, the dean of Trinity College, Cambridge, said that such a view was "legitimate" after a sermon by a student claimed that Christ had a "trans body."
The sermon was given by Joshua Heath, a junior research fellow, during a Sunday evensong service at Trinity College chapel. In the course of his message, Heath displayed Renaissance and Medieval paintings of the crucifixion that depicted a side wound that he likened to a vagina.
I promise you I'm not making this up.
Beyond displaying a painting by Jean Malouel (the 1400 work Pietá), Heath also told worshippers that in the Prayer Book of Bonne of Luxembourg (from the 14th century), the side wound was isolated and "takes on a decidedly vaginal appearance."
According to a report in the Telegraph, Heath also drew on non-erotic depictions of Christ's penis in historical art, which "urge a welcoming rather than hostile response toward the raised voices of trans people."
Going further, he argued that "In Christ's simultaneously masculine and feminine body in these works, if the body of Christ as these works suggest the body of all bodies, then his body is also the trans body."
So…three isolated pieces of medieval art (out of untold works) said to depict a side-wound that to the mind of this student looks like a vagina, and since there is also art that depicts Jesus with a penis, we obviously have an apologetic for affirming all things trans.
It's hard to know where to begin. Perhaps we don't have to. Those in attendance were more than willing to respond in our stead. Worshipers were left in tears, others shouted "Heresy!" One congregation member, who wished to remain anonymous, wrote Dr. Banner a complaint letter:
I left the service in tears. You offered to speak to me afterwards, but I was too distressed. I am contemptuous of the idea that by cutting a hole in a man, through which he can be penetrated, he can become a woman.
I am especially contemptuous of such imagery when it is applied to our Lord, from the pulpit, at Evensong. I am contemptuous of the notion that we should be invited to contemplate the martyrdom of a 'trans Christ,' a new heresy for our age.
Yes, it is a new heresy for our age. An age that will seemingly stop at nothing to legitimate decisions and beliefs and behaviors.
Even if it takes the outrageous proposition, and ridiculous stretch, of a trans Jesus.
This article originally appeared here and is used by permission.