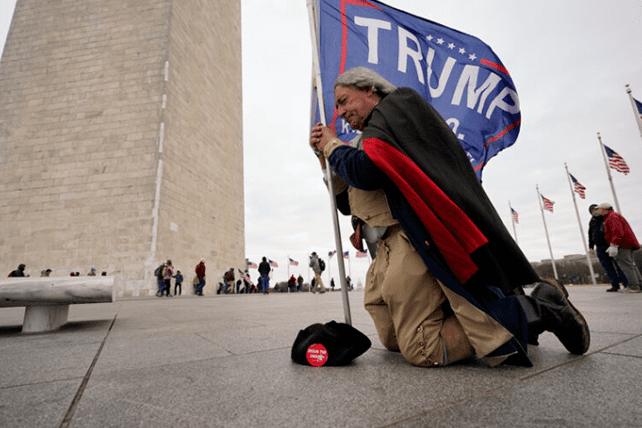 Pastors, if you're looking for a short, cheap getaway, the Liberty Pastors Training Camp later this month has a deal for you: four days, three nights and meals for just $99.
There's a catch, though.
Just as with those timeshare offers that require attendance at a sales presentation, this stay includes a sales pitch, too.
Among the conference sessions that are part of the package is one that promises to answer a question you might never have thought to ask: "How do I become a Black Robe preacher?"
Your next question might be "What is a Black Robe preacher?"
The name is an allusion to the Black Robed Regiment of the Revolutionary era, a name given to clergymen who advocated from the pulpit for American independence from Britain, rousing within their congregations support for the patriot cause in the name of religious freedom.
Today's self-identified Black Robed preachers are led by Dan Fisher, a pastor and former member of the Oklahoma House of Representatives who gives presentations dressed "in full period costume" complete with props he describes as "relics from our War of Independence."
Lauding the "patriot preachers" of the Revolution who "stood in their pulpits each Sunday wearing their black robes, preaching from God's Word about spiritual and civil liberty," Fisher aims to "challenge today's church and to stand for liberty as the 18th century church did."
But cosplaying Revolutionary clergy in the 21st century reflects neither biblical wisdom nor sound theology.
Ecclesiastes warns: "Do not say, 'Why were the old days better than these?' For it is not wise to ask such questions."
And in the Gospel of Luke, Jesus admonishes the multitudes for being able to read the weather but not discern the times.
Those who wish to change the culture, to advocate for religious freedom and even to protect civil liberties and the secular U.S. Constitution and do these things in the name of Jesus ought to do so, not only with financial transparency, but also with biblical wisdom, maturity and discernment — clothed in Jesus Christ, not Revolution-era costumes.