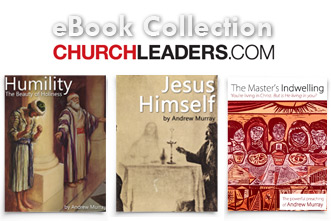 Sign up to receive free emails from churchleaders.com and download this classic collection instantly.
Humility
This book has often been considered the best work on humility ever written. Explore how Jesus took the nature of a servant and thereby modeled humility for all believers.
Jesus Himself
This short book is pulled from two sermons preached by Andrew Murray. This work is simple and timeless, a bold stand against a form of "religion" that focuses on rationalism and the greatness of man. Murray pushes to continually bring focus back to the person of Christ.
The Master's Indwelling
Inspiring and powerful, this book centers on ministry-specific themes such as authenticity, self-denial, patience for God's timing, the power of prayer, fighting anxiety with trust, and life in the Spirit. Spend some time with Murray as he encourages the weary minister and offers hope from Scripture.