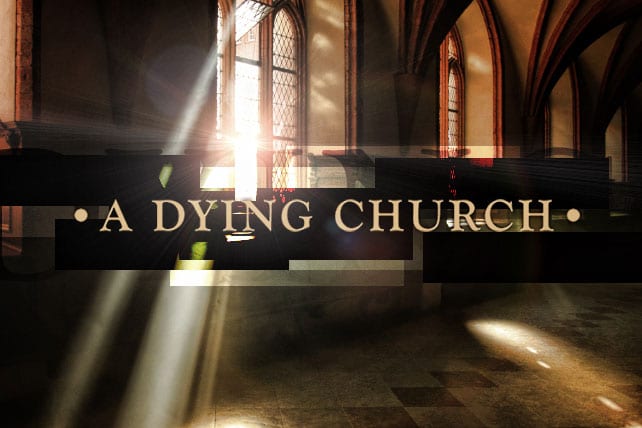 No church leader I know wants to see another church close its doors. We need every local church, now more than ever, if we're going to fulfill the Great Commission as soon as possible. I'm a Baptist who still believes in the perpetuity of biblical, local New Testament churches until Jesus comes again. But each local church in history has tended to have its own life cycle. Some are revived and have a whole new life. Others disband and dissolve. And many churches limp along in mere survival mode for a couple of decades until their stalwart generation is gone and then close their doors.
Here's a hard truth. Sometimes, churches need to die. Sometimes, churches need a miraculous healing and fresh breath of life. God is certainly in the miracle-working business and is alive and well on His throne, but under His sovereign reign, history proves that miracles aren't always in order from His perspective.
If you think your church might be dying, here are some possible next moves.
Assess the situation.
And here's the tough question you must ask to have a meaningful assessment: Will we, by fighting for our survival, consume resources such as money and energy that could be better invested in other ways for the growth of God's Kingdom? And here's the kicker. To turn things around, you won't be able to do what you've been doing. Things will have to change radically and painfully, and very few churches survive the transition. You'll have to let go of the reins and give up control. In other words, you'll have to do the very thing human beings are most afraid to do for your church to have a chance at new life.
If, after close inspection, deep prayer and fasting, and the counsel of godly leaders, your church comes to the conclusion that life must go on and revival must occur, brace yourself. What comes next is one of the hardest things you'll ever do. It's why Ed Stetzer often says that "it's easier to birth babies than to raise the dead."
Know that God wants more than your faithfulness. He wants you to be fruitful as well.
This is the point at which many who are reading these words with a defensive posture will be proclaiming that all is needed for a church to thrive is faithfulness to sound doctrine and the preaching of the gospel. I believe these are foundational. I also know plenty of churches that are, as Vance Havner put it, "straight as a gun barrel doctrinally and just as empty spiritually."
To be faithful requires our adherence to the Scriptures as God's Word, to Jesus Christ as Savior and Head of the body, and to the Holy Spirit as our source of power. But fruitfulness also requires wisdom, teamwork, sweat and toil, and a methodology that fulfills the unchanging mission of the church.