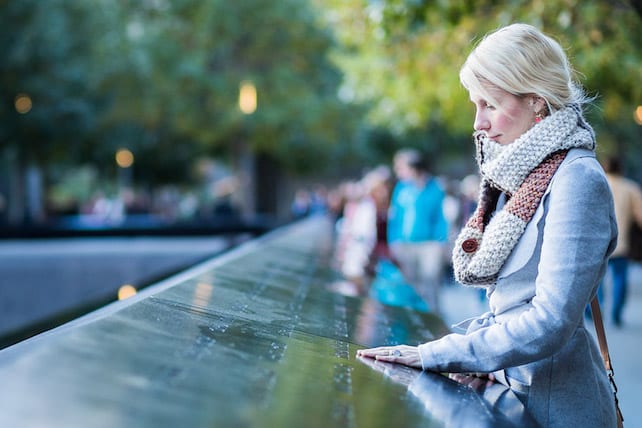 The date 9/11 is a date that the majority of Americans not only will never forget but can remember like it happened yesterday. I can still remember exactly where I was and what I was doing when I heard the news of what was happening on the morning of September 11, 2001. I believe it is important to never forget because of the impact it had and still has on our nation. Remembering 9/11 in church is important because of the impact it had and still has on our nation. The church must meet the need for prayer in our country and world.
Remembering 9/11 In Church This Weekend
1. Pray for those who are blinded by Satan:
"In their case the god of this world has blinded the minds of the unbelievers, to keep them from seeing the light of the gospel of the glory of Christ, who is the image of God." (2 Corinthians 4:1-6) – Church, we have been given a gift from God that allows us to go to Him and pray for the people all around us. We know that He always hears our cries and pleading for those that have been blinded by our enemy and are deceived by false religions. Let's not take this blessing we have to intercede for them for granted.
Lord God we pray that you shine through your church to draw those who are lost and trapped in deception. Please remove the scales from their eyes so that they may see the true Savior and repent of their sins. For we give you all praise that you opened our eyes who were once blind as well.
2. Pray for the world:
"If my people who are called by my name humble themselves, and pray and seek my face and turn from their wicked ways, then I will hear from heaven and will forgive their sin and heal their land." (2 Chronicles 7:14). This even includes our enemies.
Lord thank you for the grace and mercy you have given us. May your church display your heart of love (1 Corinthians 13) to your image-bearers all over the world.  Use us to shine your light in this dark world, and may you receive all the glory and praise.
3. Pray for Christ's return:
"Your kingdom come, your will be done." (Matthew 6). Jesus told us how we should pray, let's not heap empty phrases, let's pray as a church that believes our King is returning someday soon. This should put a smile on our hearts, tears in our eyes, and hope in our spirits.
Our Father in heaven, hallowed be your name. Your kingdom come, your will be done, on earth as it is in heaven. Give us this day our daily bread, and forgive us our debts, as we also have forgiven our debtors. And lead us not into temptation, but deliver us from evil.
Join others praying for the healing as we worship, remembering 9/11 in church.