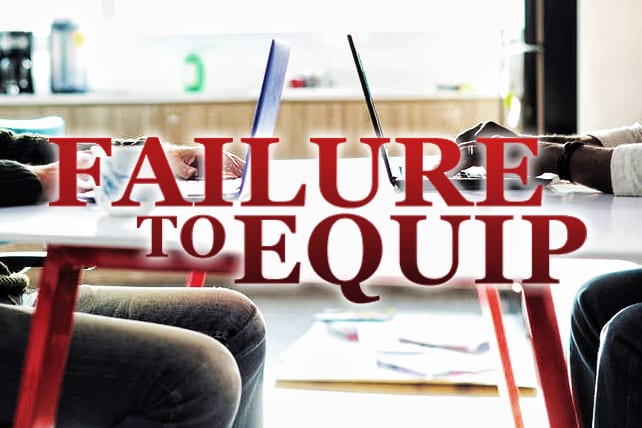 It's not easy to put your philosophy of ministry into practice. Every seminary student cites Ephesians chapter 4 in their philosophy of ministry papers. Every book written on pastoral ministry exegetes this passage. And for good reason. It lays out the key ministry principle that the body of Christ works together to grow and mature in faith. It's not just the pastor's job, it's everyone's job.
But when the philosophical rubber meets the road of daily ministry, we spin our wheels. We don't get traction. There's water on the road of our church's mission that prevents us from racing forward with kingdom work. The water is the church who remain unequipped for ministry.
3 reasons pastors fail to equip the saints
1. You don't equip the saints to do the work, because you do it yourself. There are several reasons why we do this. Some of us have a messiah complex that makes us feel like better pastors if we have too much to do. As for me, I don't like to invest the time at the front end of the delegating process. Often it's faster in the short term if I just do the job myself. In the long term, it doesn't work out so great.
2. You aren't teaching your people how to join the work of the ministry. The teaching is the equipping. It's no coincidence that each role listed in 4:11 is a teaching gift. Do you expect them to be able to engage in gospel ministry on their own? Do you think that it should be obvious to them that they need to get involved? Show them how to help and you may be surprised how many people start digging into ministry with you.
3. You are patronizing your people, rather than shepherding them. It's possible for us to think we are maturing "them" when really we all mature in this process. It's easy to think that we are the ones that know everything if we are the equippers. But Paul corrects this notion in 4:13, "until we all attain…" How have you grown in the past few months due to your role as an equipper?
3 reasons the saints fail to be equipped
1. They expect the pastors to do all the work instead of joining in. This is the consumer mentality: Their tithes pay the pastors to give them a spiritual product. We have to counteract this attitude. Show them their spiritual gifts, celebrate the priesthood of all believers, and teach them that the lowest person in the body of Christ is indispensable.
2. They don't see their pastors as gifts from Jesus for their equipping, but rather as nags always asking for volunteers. Every fall, we spend a month or more pleading with our people to join in our children's ministry. Rarely are we able to open all our classes when the fall kicks off (my daughter's class won't open this weekend). For some, the continual announcements and phone calls are more of a dripping faucet than a repeated invitation to receive grace from Christ.
3. They don't realize they are signing up for work. I've been blessed with a number of hard workers in my junior high ministry, but there is the occasional parent or college student that thought they were signing up to be an extra set of eyes. They sit at the back instead of with the students. They don't come to the leader meetings. They don't play the games. There's a reason why Paul calls it the "work" of the ministry.
3 ways we all fail together
1. We lean toward the clergy/layman mindset. I tried to avoid this mistake in #3 under the "pastors" heading, and here, even though I've flirted with it by dividing the pastors and people into two categories. Break down the professionalism of the pastor by being vulnerable and highlighting your members who are rocking out gospel ministry.
2. We run out of steam. The process of equipping the saints for the work of the ministry must take place "until" we reach full maturity (4:13). That means we do this until we die or Christ comes back. Get God's people ready for a marathon. You get ready, too.
3. We forget the cost Jesus paid to deliver these gifts to build up his body: his death. The gifts that Jesus gives in the apostles, prophets, evangelists and pastor-teachers (notice, the gifts are people not talents) come through his ascent, which implies the descent Paul mentions in 4:9-10 (i.e., his incarnation and death). You're probably thinking, "Yeah, my role came at such a high price! My people should value me more!" That may be true, but the point is that pastors and people alike ought to value Jesus more for sacrificing his life so that we can have everything we need to grow up in him.
Get to work
You've written about Ephesians 4. You've read about Ephesians 4. Now it's time to do Ephesians 4, for the sake of Christ's glory in the church as his body matures into him, her head.
This article originally appeared here.