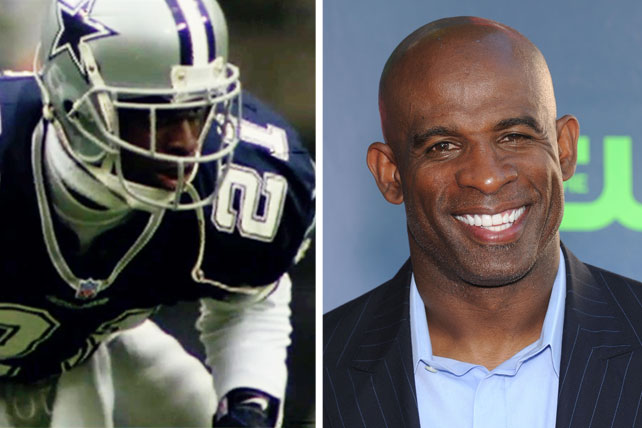 Ahead of an upcoming ESPN 30 for 30 documentary about his life, two-sport athlete Deion Sanders is speaking out about the struggles that led him to Jesus. The 51-year-old father of five, now a commentator for the NFL Network, discusses a 1997 suicide attempt that resulted in a "tremendous turnaround."
Sanders, known as "Prime Time," is the only athlete to compete in both a World Series and a Super Bowl. He played Major League Baseball for nine years, including a 1992 World Series appearance with the Atlanta Braves. And he played in the National Football League for 14 years, winning the Super Bowl in 1995 and 1996 with the San Francisco 49ers and Dallas Cowboys, respectively.
In his 1997 autobiography Power, Money & Sex: How Success Almost Ruined My Life (Word Publishing), Sanders describes driving off a 40-foot cliff—without sustaining major injuries. At that point, he was "going through the trials and tribulations of life," including a divorce. "I was pretty much running on fumes," Sanders says. "I was empty, no peace, no joy. Losing hope with the progression of everything."
Deion Sanders Switches to "God's Team"
Growing up in Florida, Sanders was deserted at age 7 by his father, a drug addict. But his mother was religious, and Sanders says church and Sunday school attendance was "mandatory." At the peak of his playing career, Sanders realized fame and fortune couldn't fill—or fulfill—him.
After surviving the suicide attempt, he "finally just got on my knees and gave it all to the Lord." Sanders says, "I had to get a lot of Word in so that I could fight off the enemy." Thanks to Bible study and assistance from spiritual mentors such as T.D. Jakes, Sanders went "from the enemy's team, being one of his soldiers, to God's team."
A Faith-Filled Life for Deion Sanders
Sanders now realizes you can't be "at your optimum without your faith." He admits, "Sports is sports; it's a game. My faith is everything. It's the gas that propels the courage, the truth, keeps me going. It's the wind, it's the wings, it's the air that pumps into my lungs, that provokes me to live. Faith is everything."
Sanders attends the nondenominational Vision Regeneration Church in Dallas. He partners with Stand Together, a local agency that fights poverty and youth violence. "Finding someone that's likeminded at this age and stage of my life is a delight to me," Sanders says of his work with the group. "They give with no expectation, give from the heart."
Although Sanders shares his experiences and faith story with other people, he doesn't label it as a ministry. "What people call 'in the ministry,' I call it 'in my will.' I'm in God's will. I don't really get down with a lot of titles," he says. "If [God] called me to minister to a group, or setting, or whatever…that's what I'm gonna do. I don't really desire a title to go and do what I've been called to do. I think it's only right to go."
ESPN's 30 for 30 feature-length documentary about Sanders airs on January 31. It focuses on a 24-hour span in October 1992 when Sanders played a football game in between two baseball playoff games in different cities.