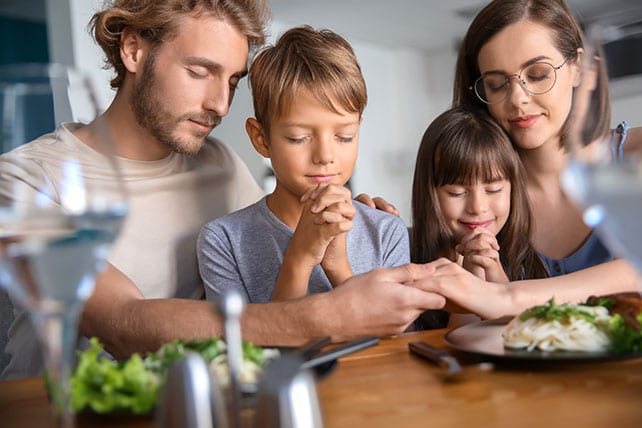 I miss church. I bet you do too. And I bet that you or someone in your house has said this exact phrase over the past year. What exactly does it mean that we are the church? Theologically, we all know that "church" is not a building. We understand that "church" is the body of Christ. So more precisely, I think, when we say we miss "church", we mean more than that. We miss the people. We miss the things we do together as people: worship and communion and conversation and prayer and hugs and food. We miss the community of faith. We miss each other and we miss the practices that renew our faith each week as we reenact the promises of Scripture through our worship and celebration. But in recent years the church has left the building.
The challenge for us as parents and ministers is to consider, how do we model authenticity and consistency as Christians safe at home while still acknowledging we are all struggling with our new reality?
We are the church. Consistency in what we teach and how we live is critical to creating an atmosphere of authenticity both at home and at church.
Whether the church has left the building or when we are at home and when we are together, we are still the church. Who we are and how we are living should flow seamlessly between those worlds without friction or tension. What we do in one place, we should be able to just as freely do in another place and our faith should reach beyond the walls of church into the everyday life we live.
The Church Has Left The Building
Consider these five church activities that we often engage in easily and freely when we gather together, but can struggle to engage in when the church has left the building. Here are some ideas for how to simply and easily add them into our healthy-at-home life:
1. We Are the Church When We Worship
Every Sunday without fail, voices are raised in song in churches around the world, praising and worshiping the Lord through "songs, hymns and spiritual songs."  Have you ever considered hosting a worship service with your family at home?  Worship through song isn't limited only to the walls of a church, in fact Paul says we are to to always be "singing and making melody in our hearts to the Lord." Many church services are online now and offer singing as part of their worship but if yours doesn't, it's perfectly fine for you to sing in your home. Easy ways to incorporate singing? Sing a song instead of praying a prayer before dinner. Teach a favorite song to your kids. Check out these resources on Psalmody and pick a Psalm to learn and sing as a family.
2. We Are the Church When We Pray
Whether it be a pastoral prayer or the communal recitation of the Lord's prayer, we frequently engage in spoken prayer in a church setting; do we do when the church has left the building? Do we do so as families at home? The Lord's Prayer is a great way for you to begin praying with your kids and creating that seamless flow between church and home.