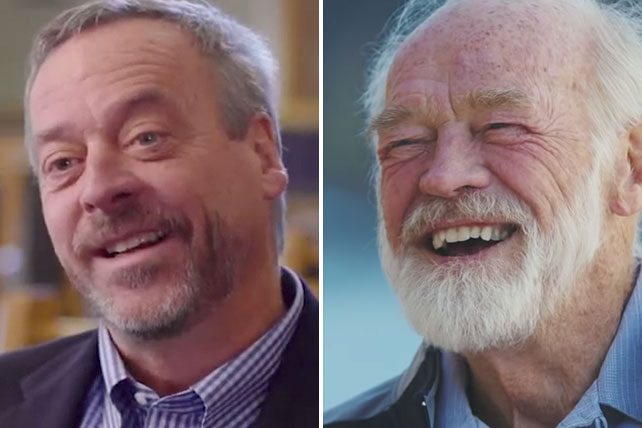 As we settle into Pastor Appreciation month, one thing is clear for most Pastors, and that's the need to put their families first and be the spiritual leaders that Christ has called them to be. It's a pretty simple message until it has to be lived out. Say the name Eugene Peterson, and his development of the Message Bible first comes to mind. For many in the Christian faith, the Message Bible makes Scripture clear and easy to understand, which may explain why his son, Eric, has a simple and direct message about his dad that he believes can encourage pastors to lead their families well.
Although we knew his dad was a prolific writer and translator, for Eric he was much more than that. In a rare interview with ChurchLeaders.com, Eric Peterson offers insights into the life of his dad that may encourage pastors and leaders along the way. Eric, who is the Senior Pastor at Colbert Presbyterian, located outside of Spokane, Washington, not only understands the role of pastoring and church planting but he also understands the role that a father can play in the lives of their children. Eric opens up about having a dad like Eugene Peterson and what he learned from him along the way.
He was my dad.
Many followers of influential leaders often tend to believe that they know all that there is to know about the leader, sometimes leaving the family members on the sideline, yet those family members hold a much different perspective. Eric shares, "I had the greatest respect for my dad, who held the moon in the sky." From the minute Eric began talking, it was easy to sense a demeanor of respect and genuine love for his dad. In an interview Eugene gave reflecting on the Message Bible, he was clear that family was first and the rest could go to pot. This may explain why Eric believed and sensed it, stating simply, "He was my dad." Eric's great fondness and pride of his dad were evident, and rightly so.
Ministry Role Model
"I crawled in through the back door, when it comes to ministry, before I knew what I was doing." Eric may have taken a back-door approach in accepting his call into full time pastoral work, but his dad was there to give advice when needed. Eric also learned from the example of his dad, who pastored the same church in Maryland for almost 30 years. In fact, Eric clearly remembers his dad saying that the Message Bible would have never been translated had it not been for his dad's pastorate. In Eugene's later years, the two would partner together in ministry, which Eric deeply enjoyed. "I knew that I was important to him," Eric declares, even as he tries to do that with his own children.
Not A Celebrity
"I can still remember asking him why he would turn down big conferences and events and hearing him say that he never wanted to put on the celebrity wardrobe." Eugene wasn't someone that you would see on the ministry conference circuit, which Eric understood wasn't who he was. One can tell deep in Eric's bones that he believes his father was a man who embodied servanthood and humility. It's been said that you can tell a lot about a parent by the behavior of their children. If that's the case Eric, models his dad. There is no pretense in Eric's demeanor; instead there is an air of humility and service. Although the Message Bible is a best seller, Eric wants it to be known that his dad never saw the Message Bible as his book. He saw it as God's book that he merely had the privilege of translating for people to read.
The Bible
I was interviewing Eric by Zoom, and looking around his office it is hard to miss his book shelves, which suggest Eugene passed along a legacy of reading and love of the Bible to his son. Eric loves the Bible, which is what you may expect from someone whose dad spent 8 years translating the Message Bible. "For my dad it was like walking through a grove of fruit trees, picking off fruit that was ripe and ready to be picked," Eric said. Eric wants it to be known that his dad loved reading the Bible and teaching from it.
Legacy
Eric is the author of two books that focus on letters to a young congregation and letters to a young pastor that relay some of the advice that his dad passed along to him. It's clear from my conversation with Eric that his dad left a lasting imprint on his life. Before Eugene passed away, Eric asked him to write letters of assurance to him, because Eric was entering a season of starting a new church and felt he may not be up to the task. Toward the end of his dad's life, Eric would sit around the fire at night and read the letters back to him. Eric still remembers those precious moments being such a fond memory to him.
I personally witnessed first-hand the legacy and life of Eugene Peterson through the ministry he provided to the singer Bono. I asked Eric to reach out to Bono for me on an upcoming project; reading Bono's words about Eugene is something that as a journalist and story teller I will never forget.
"I do miss Eugene's voice in my ear, but keep his words close… especially in the times we are in. Remembering Jan also." -Bono