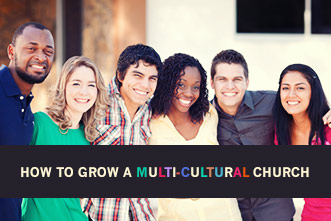 It's common to think that if you want to grow a multicultural population at your church (or simply accommodate one which already exists), you must have multicultural services or programs. Of course, sometimes, this is the answer (when a service needs to be in a different language, for example).
But more often than not, multicultural populations can and should thrive in all of our churches.
We simply must be open to receive them and celebrate the gifts they bring.
We should not just be willing, but eager, to invite those from different backgrounds and cultures into our communities because diversity pleases God, and because Jesus was sent to save and redeem all people, from all nations.
Here are some things to keep in mind as you seek to invite and cultivate diversity in your community.
Make Jesus the Center
Jesus is the common denominator. He is the great unifier. He is the one who brings people together from different races, genders and backgrounds. Consider these words from Paul in Galatians:
"There is neither Jew nor Gentile, neither slave nor free, nor is there male and female, for you are all one in Christ Jesus." (Galatians 3:28)
In Paul's world, these would have been fierce, fighting words. To think that there was no divide between men and women, Jew or Gentile, slave or free man would have been so countercultural to Paul's audience, it would have been hard for them to get their heads around.
Today, these words resonate with us in a different way. We believe them and wish to embody them. But if we're ever going to achieve unity in our churches—if we're ever going to experience true diversity—we must make Jesus the center.
Be Open to Differences
As much as we embrace differences in theory, when it comes to embracing them in actual practice, we struggle. We like things to be a certain way (the way we like them). We want to be around people who are like us. It makes us feel less threatened.
However, if we're going to nurture diversity in our churches, we're going to have to celebrate different ways of worshipping, preaching and relating, and even different styles of leadership.
If you find yourself feeling uncomfortable with "different," stop for a minute and ask yourself where that discomfort comes from.
Do you really disagree, or are you just out of your comfort zone?
Invite Different Cultures Into Leadership
In order for your church to reach different kinds of people, there will need to be different kinds of people on your leadership teams.
This is vital.
If your church is not very diverse, work to diversify your leadership team.
This includes men and women, people from different backgrounds, cultures, countries of origin and even different denominations (yes, I'm serious). Of course, before you hire, make sure each person can serve the common mission and vision, but don't forget (see point #1) to make that vision and mission all about Jesus.
Diversity might just come easier than you think.