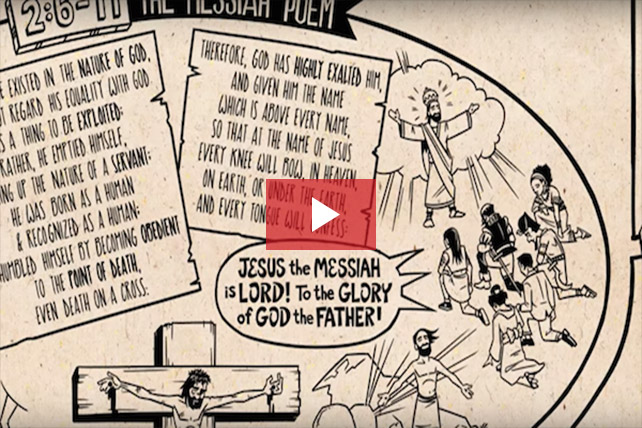 The Bible Project has released another video, this one explaining the message behind the book of Philippians. In this letter, we are given a unique look into "Paul's heart and mind."
The video starts where all good exegesis does—giving us some background on the letter. Philippi was the location of the first Jesus community Paul started in Eastern Europe. It was a Roman colony in ancient Macedonia, "known for its patriotic nationalism." Because of this fierce nationalism, the message of Jesus being King of kings did not settle well with the culture, and Christians were persecuted as a result.
Paul wrote the letter while he was in prison to encourage the Philippine believers who were being persecuted there.
The letter's structure consists of a series of short, reflective essays centered around a poem found in chapter 2. The poem focuses on the story of the Messiah's incarnation: "His life, death, resurrection, and exaltation." Additionally, the letter guides believers toward living their lives as an expression of Christ's story.
The short essays included in the book are as follows:
Opening prayer
Paul thanks God for the church in Philippi, which has been so supportive of him.
Paul's Imprisonment
Paul encourages the readers that his time in prison is turning out to be a great tool to witness to people—almost a blessing in disguise.
Follow Jesus's Example
Over and over again in the letter (but especially here) Paul encourages the readers: Don't worry if you're persecuted; Jesus was, too.
Next comes the central poem in chapter 2, which is a "beautifully condensed version of the gospel story."
Two Examples
There are two examples of believers who are living out the life Jesus modeled—Timothy and Epaphroditus. They are doing this by serving others and even risking their lives to do it.
Paul's Example
All religious work he's done is nothing compared to knowing Jesus. He also emphasizes that we shouldn't be eager to leave earth to go to heaven. Rather, "heaven is the transcendent place where Jesus reigns as king." So we should eagerly be waiting for him to come from heaven and return here, to earth.
Challenge to live the example of Jesus
Paul encourages two women leaders, Euodia and Syntyche, to overcome a disagreement and live in unity. Also, once again he encourages readers not to give in to fear; instead let God know about your trials and trust him to give you peace.
Closing thanks
Paul has learned the secret of contentment, no matter what his circumstances are: "Simple dependence on the one who strengthens him."
Paul's heart and mind shine through the letter with the theme that hardships have been a blessing to him. These hardships have allowed him to live out the story of Jesus.
So, again, don't worry when persecution comes or when you face hardships. They may be blessings in disguise.
If you enjoyed this video from the Bible Project, you'll like these as well:
Animated Explanation of 'The Messiah'
This Animated Description of Holiness Will Permanently Change the Way You Worship God
Understanding the Book of Proverbs
The Explanation of JOB Every Sufferer (and Everyone Else) Needs to See