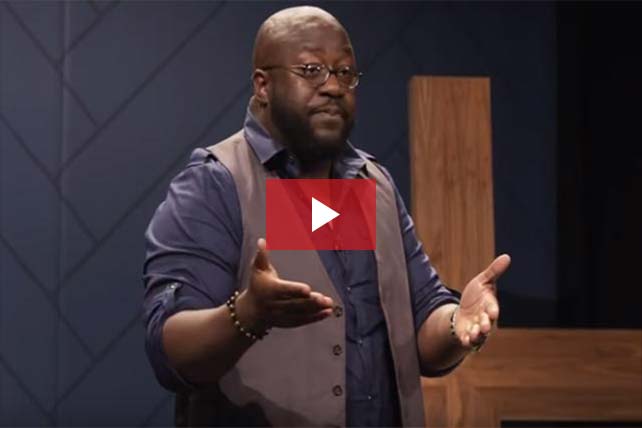 Do you ever wonder how God sees you? Do you ever struggle with paralyzing fear or thoughts about yourself that border on self-hatred? You're not alone. One hero of the faith, in particular, did also. If you do, there is probably an accompanying attitude of guilt for feeling these things as a Christian.  How we see ourselves and our situations is essential to how we live.  In order to live the life that God has for us, we must use the right viewfinder for our lives… His!
Dr. Eric Mason, founder and president of Thriving, an urban resource organization committed to developing leaders for ministry in the urban context, preached a sermon that gets at this very issue.  In this video, Dr. Mason with his direct but winsome style, preaches about the Old Testament judge Gideon and provides important principles that should encourage any man or woman of God who presently struggles with anxiety or fear of the future.  Mason highlights these principles as he discusses Gideon's story in the sixth chapter of Judges.
1)  God calls Gideon what he is not…. yet.   The Scripture shows that Gideon was responding to the threat of the Midianites by beating wheat to hide it from them. In other words, he's scared. But God comes to him and calls him "O Mighty Man of Valor." Well Gideon certainly DID NOT look like a man of valor in that moment, but God saw what Gideon would become.
2)  We are in trouble if we ONLY see who we are in our sin and not who we are in Him.  God allows us to see ourselves in our sin for the purpose of a continual turning to Him.
3)  God is the worst picker of people, but there is a simple reason.  It's evident in the Scriptures that the people God chooses would be the last people you would think would be chosen to expand the knowledge of His glorious kingdom! Why is this?  It's actually very simple…so that the glory goes to Him not them.
In light of this story, here are two questions to ponder:
Do you know from God's Word your identity in Christ?
Secondly, how would you live differently if you lived out of that blood-bought identity?