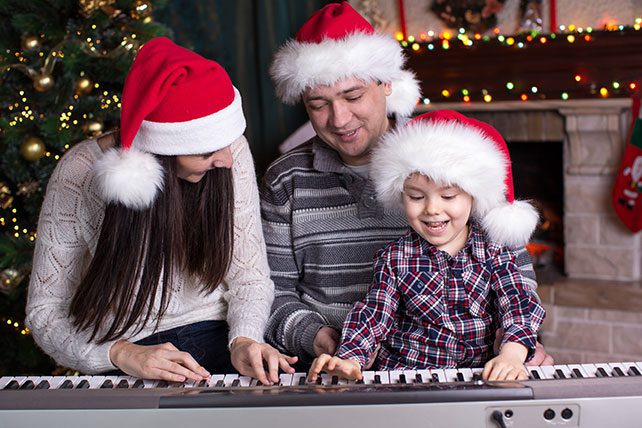 How do you feel about Christmas music? When fall ends and the Christmas season is ushered in with enthusiasm, you begin to hear Christmas songs everywhere; what is your reaction? You either love it, hate it or tolerate it. Are ten Christmas songs enough? Too much? Here in Ottawa, Canada, we have a radio station that starts playing Christmas music right after Halloween ends. Every. Single. Song. Is. Christmas.
In our family, some of us do not like this (me), and some love it (everyone else). As a result of the familial imbalance, every car ride is flooded with the whole spectrum of holly, jolly…and sappy Christmas songs ever created.
Honestly, I'm not a huge fan, but seeing the rest of my family singing along to their favourites with smiles on their faces is fun (I'm not fully Grinch).
Have you ever wondered why some of us get so annoyed with Christmas songs? It may be because they are played too early in the year or because they're played too often. It may be that we've heard them so often that our ears can't handle yet another rendition!
As a result of these questions, I began thinking: what if these songs triggered something in me other than disdain? Could they lead me to a more intimate relationship with God and lead to spiritual growth? What if these songs did this for you and those you lead? Could we turn the whole Christmas-music-everywhere thing into a spiritual exercise that saw us approach God and advocate for those in our world and our lives?
Well, sweet partridge in a pear tree, sign me up for that! With only two weeks left until Christmas, here are ten Christmas songs linked to ten prayers to take you, and those you lead, on a more profound journey this Christmas season.
Ten Christmas Songs For Ten Christmas Prayers
1. All I Want for Christmas is You
Pray that we will not lose sight of our need to know God more deeply in the busyness of the Christmas season.
2. Mary, Did You Know?
Pray that people will respond to the arrival of Jesus with faith that will result in life transformation.
3. Little Drummer Boy
Pray that we will live out our faith through simple acts of love in the communities God has called us, building irresistible bridges between Jesus and unchurched people.