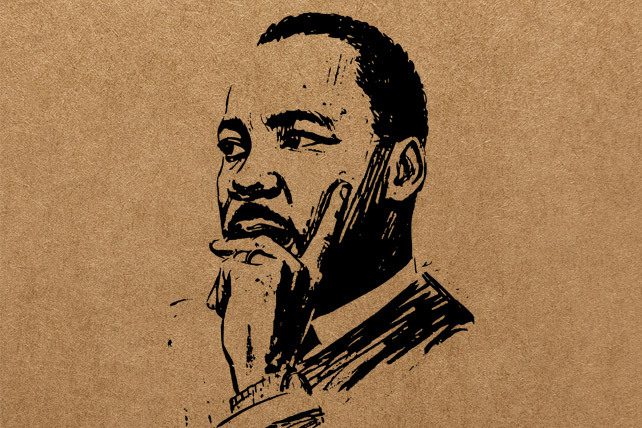 In the spirit of the letters of Paul, Martin Luther King, Jr. wrote an imaginary letter from the Apostle Paul to American Christians. It is patterned after the letter to Romans, a church Paul had not yet visited. He delivered the letter to the Dexter Avenue Baptist Church in Montgomery, Alabama, on November 4, 1956.
Each year, on Martin Luther King Day, I like to publish one of King's letters. The following excerpt is worth reading again on this day when we remember Dr. King.
You can read the entire letter here.
I, an apostle of Jesus Christ by the will of God, to you who are in America, Grace be unto you, and peace from God our Father, through our Lord and Savior, Jesus Christ.
For many years I have longed to be able to come to see you. I have heard so much of you and of what you are doing. I have heard of the fascinating and astounding advances that you have made in the scientific realm. I have heard of your dashing subways and flashing airplanes. Through your scientific genius you have been able to dwarf distance and place time in chains. You have been able to carve highways through the stratosphere. So in your world you have made it possible to eat breakfast in New York City and dinner in Paris, France. I have also heard of your skyscraping buildings with their prodigious towers steeping heavenward. I have heard of your great medical advances, which have resulted in the curing of many dread plagues and diseases, and thereby prolonged your lives and made for greater security and physical well-being. All of that is marvelous. You can do so many things in your day that I could not do in the Greco-Roman world of my day. In your age you can travel distances in one day that took me three months to travel. That is wonderful. You have made tremendous strides in the area of scientific and technological development.
But America, as I look at you from afar, I wonder whether your moral and spiritual progress has been commensurate with your scientific progress. It seems to me that your moral progress lags behind your scientific progress. Your poet Thoreau used to talk about "improved means to an unimproved end." How often this is true. You have allowed the material means by which you live to outdistance the spiritual ends for which you live. You have allowed your mentality to outrun your morality. You have allowed your civilization to outdistance your culture. Through your scientific genius you have made of the world a neighborhood, but through your moral and spiritual genius you have failed to make of it a brotherhood. So America, I would urge you to keep your moral advances abreast with your scientific advances.
I am impelled to write you concerning the responsibilities laid upon you to live as Christians in the midst of an unChristian world. That is what I had to do. That is what every Christian has to do. But I understand that there are many Christians in America who give their ultimate allegiance to man-made systems and customs. They are afraid to be different. Their great concern is to be accepted socially. They live by some such principle as this: "everybody is doing it, so it must be alright." For so many of you Morality is merely group consensus. In your modern sociological lingo, the mores are accepted as the right ways. You have unconsciously come to believe that right is discovered by taking a sort of Gallup poll of the majority opinion. How many are giving their ultimate allegiance to this way.
But American Christians, I must say to you as I said to the Roman Christians years ago, "Be not conformed to this world, but be ye transformed by the renewing of your mind." Or, as I said to the Philippian Christians, "Ye are a colony of heaven." This means that although you live in the colony of time, your ultimate allegiance is to the empire of eternity. You have a dual citizenry. You live both in time and eternity; both in heaven and earth. Therefore, your ultimate allegiance is not to the government, not to the state, not to nation, not to any man-made institution. The Christian owes his ultimate allegiance to God, and if any earthly institution conflicts with God's will it is your Christian duty to take a stand against it. You must never allow the transitory evanescent demands of man-made institutions to take precedence over the eternal demands of the Almighty God. . . .