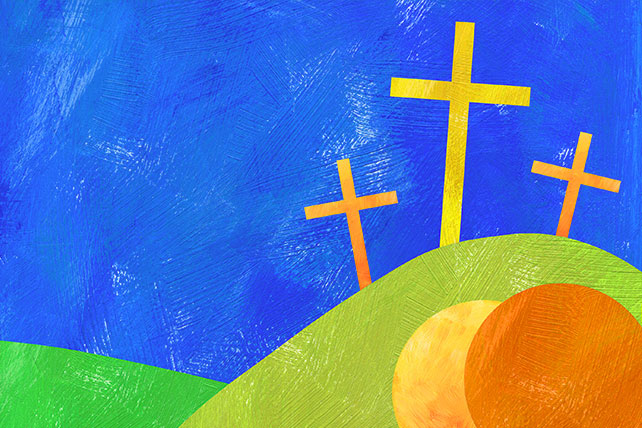 Holy Week, the final week before Jesus would suffer and die on the cross for our sins and rise again in victory over sin and death, is filled with opportunities for your church to gather around God's Word in worship. Read more about Holy Week.
Holy Week Worship Ideas
Palm Sunday Sermon Ideas 
1. The Significance Of Palm Sunday
Scripture: Matthew 21:1-11
Summary: Palm Sunday often gets overlooked under the shadow of Resurrection Sunday. But it is very significant for four important reasons. Also – how do you act when Jesus approaches your life?
"For much of Jesus' ministry He urged people to be quiet about who He was. When He healed he told people not to say anything, when He confronted demons who recognized Him as the Son of God He told them to shut up. That's because it wasn't time for Him to declare Himself as the Messiah. On Palm Sunday the time had come."
Scripture: Luke 19:28-44
Summary: Looking at Palm Sunday from different viewpoints and how we miss seeing Jesus.
"What if you were there to witness for yourself the events of the Triumphal Entry of Jesus into Jerusalem on that first Palm Sunday Celebration? How would you feel? What would you have seen or heard? What would you be thinking?"
Summary: The three Parades. A sermon for Palm Sunday that looks at three different Parades from the Bible -each of which we can learn new lessons.
"This morning I want to talk about three great parades that we need to take part in in order to be effective as Christians."
Summary: This year how have we been preparing ourselves for Christ if He would show up at our door just as He did on this day show up at the door of Jerusalem?
"Multitudes often seem to approve the gospel, but few become consistent disciples. When Jesus was come into Jerusalem all the city was moved; some perhaps were moved with joy, who waited for the Consolation of Israel; others, of the Pharisees, were moved with envy. So various are the motions in the minds of men upon the approach of Christ's kingdom."
Summary: This sermon deals with the various attitudes which are exposed or demonstrated on Palm Sunday.
"Palm Sunday is a time for us to examine our attitudes toward each other as well as toward God. In a way, Palm Sunday is about a huge parade coming into town with one major float as its main attraction. The preparation, the launching, and the moving of the float will allow all kinds of attitudes to appear. Let's see when and where our own attitude shows up."
Scripture: Mark 11:1-11
"Even Jesus as he rode into Jerusalem wept for his beloved city, as it says in Luke's gospel, for he knew the dreams of this day would turn into the reality of pain, death, and suffering. During the week that followed this great triumphant ride into the city, Jesus spoke of the realities of who he was."
Summary: Palm Sunday, Second Coming
"The next time Jesus rides, things will be quite different. He will no longer be a reluctant King riding on a donkey. He will come in the clouds with great glory as the King of Kings and Lord of Lords – not as 'king for the day,' but as 'King for all time and eternity.'"
See Page Two for more Holy Week Worship Ideas…