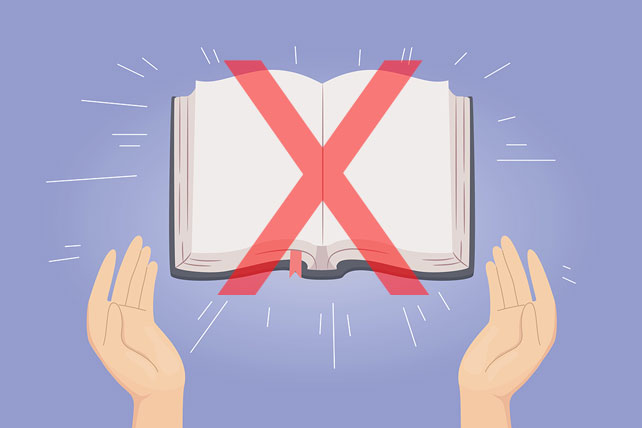 Worship without scripture reading may not be worship at all.
By limiting Scripture to a single reading prior to the pastoral exhortation, we may be unwittingly implying that we are placing a higher level of credibility in the exhortation than in the Word itself. It may then convey a lack of trust in the very Word professed to be foundational to our faith, doctrines, and practices. If Scripture can't stand on its own, then we can't possibly prop it up with our own words.
Robert Webber in Ancient-Future Worship wrote, "We are nourished in worship by Jesus Christ, who is the living Word disclosed to us in the Scriptures, the written Word of God. In spite of all the emphasis we evangelicals have placed on the importance of the Bible, there seems to be a crisis of the Word among us."
Worship without scripture? Congregations continue to struggle in their understanding of spirit and truth worship by maximizing music and depending on it alone to encourage worship renewal. At the same time those congregations often minimize the very root from which our songs must spring. John Frame offers two truths that highlight the value of God's word in our worship: "First, where God's Word is, God is. We should never take God's Word for granted. To hear the Word of God is to meet with God himself. Second, where God is, the Word is. We should not seek to have an experience with God which bypasses or transcends his Word."
The dialogue of worship is formed when God's word is revealed. This revelation causes worshippers to respond through the prompting of the Holy Spirit (1 Cor 2:12-15; 1 Thess 1:5). The result is a vertical conversation with God and horizontal communion with others. This dialogue develops a community that congregations have been desperately trying to create and recreate through their songs alone.
Some of the crisis of the Word is a result of our standing over the Bible and reading God's narrative from outside instead of standing within the narrative and reading Scripture from the inside. Reading Scripture as insiders helps us realize the text is not just describing someone else's story in history but also describing the story of my life, my hope, my joy, my sin, and my journey away from and to God.
As an elementary school teacher, my wife often reads or tells stories to her students to enhance auditory learning, encourage creativity, promote informational development, and advance knowledge. With imagination beyond my comprehension she is able to create stories and insert the names of her classroom children into the narrative, considering the personality and nature of each child. This narrative approach to reading and telling moves the children beyond just hearing the words to actually living inside those words.
When Scripture is read, when it is illuminated in our preaching, when it is incorporated into our prayers of thanksgiving and lament, when it frames the celebration of the Lord's Supper, and when we sing its text in a unified voice, Scripture becomes a means by which we are gathered into the body of the living Lord.
Scripture must be foundational to our songs, sermons, prayers, verbal transitions, and even ministry announcements. It must be frequently, variously, generationally, and culturally read and allowed to stand on its own. When that occurs, our congregations will leave in-here worship, with the text in their hearts and on their lips, for nonstop worship out there.
TEAM DISCUSSION QUESTIONS ABOUT WORSHIP WITHOUT SCRIPTURE:
How often are we reading Scripture in our worship services beyond the text for pastoral exhortation?
How might we encourage our congregation to not only hear the words of Scripture but also live inside those words?
Who usually reads Scripture in our services? Are we enlisting multiple generations, genders, and cultures as readers?
What filters should we put in place to help us determine if Scripture is primary instead of secondary in our worship services?
This article about worship without scripture originally appeared here, and is used by permission.