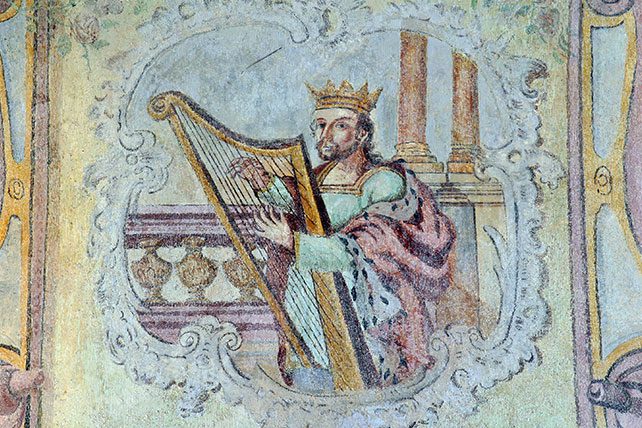 What does it mean to be a worship leader? Many articles on the subject address musical, spiritual and technical issues involved in worship. In preparation for classes and seminars that I have taught, I've come to realize that these articles address only half the equation. While worship is important, leadership is equally important. Ready to dig deep? This in depth study about worship leaders in the Bible is very long, but it is broken into four parts: "The Gift of Leadership", "Biblical Leadership Models", "The Maturing Christian Leader" and "Leader Emergence."
Included are some questions that are intended to reinforce the major points of each section. I suggest that you spend some dedicated time before the Lord in prayer, mediation and soul searching to answer these questions as thoroughly and accurately as possible. If you don't have a good answer, continue in an attitude of prayerful waiting until you have your answer. It is my prayer that understanding God's call to leadership of worship leaders in the bible will help you become more effective as a worship leader.
A leader is someone you will follow to a place you wouldn't go yourself.
—Joel A. Barker 
Worship Leaders in the Bible: Introduction
Have you ever wondered what makes a good leader? The makings of a good leader are many, and vary based on the context of the position. In business, a good leader is one who maximizes profit and shareholder value without depleting company resources. In the home, a good leader is one who focuses on the well-being of the family; profitability is not a concern. In the Church, a good leader is one whom the Lord uses to build the body of Christ, prepare people for service and good works and to positively affect the world for Christ using the Church's and the Church's community human and physical resources.
So far we've identified leaders by what they do. However, this tells us nothing about what personal characteristics make good leaders. In this section, we will attempt to define, and certainly will emphasize, Christian leadership based on personal character and characteristics rather than activity. The premise is that leadership is borne from the leader's character and characteristics, rather than their activities. In other words, God's leaders are defined by who they are in Christ and not what they do. Allow me to illustrate my point.
The Gift of Leadership
Every neighborhood has a leader, though it is not clear why a particular person is singled out as the leader. In my neighborhood it was Gary. Gary was not smarter, better looking, older, a better athlete or kinder than anyone else on my street, yet every day after school and on the weekends, everyone would meet at his house to participate in the next "great adventure," which usually was not even Gary's idea. No matter what the circumstances, even when the group was in trouble and was confronted by a respected authority figure (such as a parent or law officer), the kids looked to Gary to validate and approve what the authority figure said. Gary had a leadership gift, which manifested itself in a charisma and charm that attracted the attention and respect of the neighborhood kids. Some leadership experts say this kind of charisma may be the most important gift for effective leadership.
Now let me tell you about Zack, whom I met at a young adult Bible study. Zach had a flare and background that was similar to Gary's. However, unlike Gary, Zack was aware of his leadership gift and calling. Every week, you would find Zach serving members of the church, his family and his friends. Zach's commitment to serving and helping people extended into his personal evangelism as well. He would help strangers in need, all the while sharing Christ with them and inviting them to church. Zach not only had a similar personality and charisma as Gary's, but he also earned the respect of the church by his committed service, his leadership, his personality and his integrity.
These two examples show that leadership can be considered a personality trait. We say "trait" because we can't really put our finger on exactly what spawns leadership activity. That is because leadership is deeply imbedded into the leader's personality. In the cases of Gary and Zach, their leadership was a "natural" expression of their charismatic personalities.
At this point, you may be saying to yourself, "I might as well give up because I never have been a natural leader like Gary or Zach." That is exactly what I said too but God's callings are "irrevocable and without repentance" (Rom 11:39); what He calls us from in no way limits what He calls us to. Let's consider for a moment two suppositions: First, that you might have a "natural" gift of leadership that has been dormant or suppressed for many years, and second, God may be creating a new work in you that you have not considered before; "if anyone is in Christ, he is a new creation; the old has gone, the new has come!" (2 Cor 5:17 NIV). Isn't it consistent with God's creative nature, who created the universe from nothing and is creating our lives anew in Christ from the death of our old nature, that leaders would be created from people who have absolutely no natural leadership gifting? This is exactly what the author of Hebrews says regarding the honor of leadership; "No one takes honor to himself, but receives it when he is called by God, even as Aaron was" (Heb 5:4, NASB). Therefore, God does not call the qualified, but rather, qualifies the called.
God's calling to ministry will have a greater influence on you than simply changing your activities; it will change your personality, your character, your priorities; it will change your life! Here we can see that having a "natural" gift of leadership may, in fact, be a disadvantage; those who are "natural" leaders may tend to draw on their "natural" abilities and charisma, rather than the spiritual gifts bestowed upon them to function in their calling.
Let's take this one step further by considering God's redemptive work. Once we were dead in our sins. Unregenerated, we "naturally" produced the fruits and deeds of the flesh. But now, we are alive in Christ and Christ is working in us. Having been regenerated, we have a new nature, a nature of the Spirit which replaces the nature of the flesh. If we, before we were redeemed, "naturally" produced the works of the old nature, shouldn't we as Christians "naturally," produce the works of the Spirit as a result of our new spiritual nature? So it is that God's leader will "naturally" produce leadership as he matures in Christ simply by being who we are becoming in Christ. In other words, leadership is not doing what God wants, it is being who God wants.
There is another form of leadership, one where the leader becomes a figurehead for a group. This type of leadership is characterized by an ability to gather and organize information and represent the group they "lead" before the group's constituents and other organizations. Such leaders frequently are found in business and hierarchal religions. Although they may be good decision-makers, they usually consult with the group to arrive at a consensus before "going public" with any decision. Many times they volunteer for leadership positions because nobody else does. Sometimes they step into leadership because their sense of organization is violated; there is a leadership vacuum. While these leaders can help most groups, they are particularly effecting in leading groups who's mission is their passion.
Through these examples, we see the gift of leadership is manifested in different ways. However, to be effective, the gift of leadership must be exercised and developed within the character of the leader. We will discuss the gifting and development of church leadership and how group dynamics affect leadership expression and style in the next section.
Think About It
1) Leadership is not only God's gift to the church, but also a character trait that manifests itself in our personality. What in your personality do you believe points to leadership traits in your character?
2) Do you believe that leadership is lying dormant in your character waiting for the opportunity of expression?
3) Can you identify in you personality and in what you do or desire to do the emergence of leadership?
4) How does the knowledge of God's call to leadership affect you?
See the next page for part two of worship leaders in the Bible: