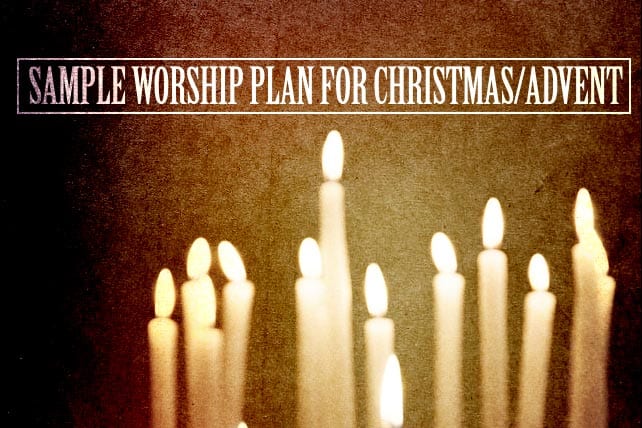 [Editor's note: While the following order of worship is specifically geared for a gift exchange service, we think elements of it can be useful for any service during this worship season. Reflect on how the powerful marriage of Scripture, song and participatory action can connect people to God this Advent.]
If you're a pastor, worship leader or liturgist, the following may help you plan a worship service or other special event during the Advent or Christmas seasons. This is my liturgy for the 2014 Women's Gift Exchange service at Sojourn Community Church, New Albany, Ind.:
Call to Worship:
Welcome, dearly loved sisters! As we gather in this Advent season, it's good to remember that we all share in longing for Christ to return, just as God's people longed many years ago for the Messiah to come and save them. As we sing this first song together, let's pour out our hearts to God who is our Refuge and has promised to come again, to rescue us from our brokenness and make all things new.
SONG: O Come, O Come Emmanuel
Reading:
Let's read from God's Word together. Please read the underlined portions aloud with me:
Praise the Lord, the God of Israel, because He has visited and redeemed His people. He has sent us a Mighty Savior just as He promised! We have been rescued from our enemies so we can serve God without fear, in holiness and righteousness as long as we live.
(Adapted from Luke 2:68-70; 74-75)
Let's respond to this good news by lifting our voices in adoration of Christ our Mighty Savior!
Song: O Come Let Us Adore Him
Assurance/Peace:
Let's continue to declare the goodness of God together. Read this aloud with me:
Because of God's tender mercy, the Morning Light from Heaven has broken upon us, to give light to those who sit in darkness and in the shadow of death, and to guide us to the path of peace.
(Adapted from Luke 2:78-79)
As we prepare to delight in exchanging gifts, let's take a moment and greet one another with a message of Peace in Christ Jesus.
Gift Exchange
SPEAKER
Closing Song: Joy to the World
Benediction: Behold, the Promised Child was born to us, the Promised Son was given to us! The government will rest on His shoulders. And He is our Wonderful Counselor, Mighty God, Everlasting Father, Prince of Peace! His government and its peace will never end.
Be encouraged by this reality we now experience in Christ our Lord. God has never broken a promise. And He will finish the good work He started before time began. Go now in the name of the Father, the Son and the Holy Spirit. Peace be with you!