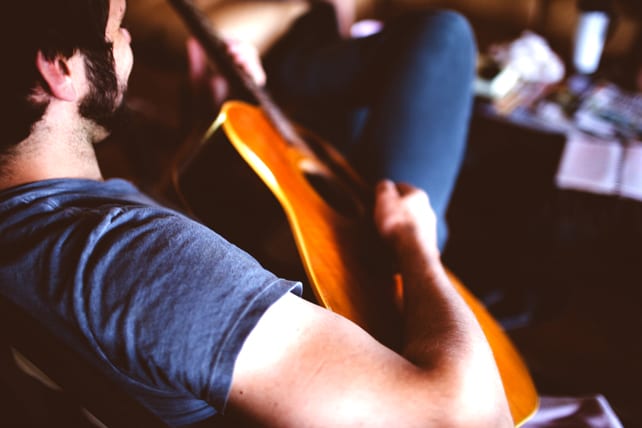 You've got your pastor's outline. Creativity is flowing. You know exactly what songs, where and when to use them. But now…how do I get the right resources for my team?
I have a five-step process that takes about 20 minutes to get your team ready for Sunday mornings. It's not completely error proof—but it's the best way I have found to get my team ready.
5 Steps to Worship Planning
The first step for me is finding the needed resources. In this case, it's the music. Typically, I'm going after three pieces of music for my team: sheet music (SATB for praise team & choir, Lead sheet for piano), chord charts (acoustic, bass and electric guitarists), and rhythm charts (acoustic guitar & drums). Other worship leaders' opinions vary on Praise Charts, but for me, I have found them to be extremely accurate and reliable for what I need, and they always have fantastic prices. (If you use Song Select for your chord charts, I fervently ask you to check over your chord progression before you hand out the sheets. I have had issues in the past with wrong chords.)
The second step is if I want to use a click-track with our music. (If this doesn't apply to your church's worship ministry, head down to step 3). We currently have a five-piece band (Piano/Synth, Lead Electric, Acoustic, Bass, Drums), which is the standard for many churches. However, there are some songs out there in which the strings, percussion or rhythm electric parts just make the song that much better. MultiTracks.com has an easy platform where you can create your own track using their online interface, than using software like Ableton or Pro-Tools. Basically…it's easy as pie to take out the bass part and leave the strings. We use this a lot, and it can add so much more smoothness and flow to our songs.
Rehearsal Mix is new to us, but it's become a valued gem for our singers & instrumentalists. Rehearsal Mix is place where you can hear all the different parts of your song—from the tenor part to the organ part (if there is one) down to the rhythm of the shaker in the percussion. The best part is, the integration with Planning Center in phenomenal, and incredibly easy to use.
Let's be honest—if you're not part of a megachurch that staffs your entire band, then your musicians have a lot of work on their hands to make beautiful music happen. So what happens if you need your lead guitarist to learn a solo part? You head over to WorshipArtistry.com. This resource is place where your guitarist can learn their parts by tutorials made for worship artists. And the price is killer: $15 a month for unlimited usage of their video tutorial library.
This is where everything starts coming together. The music from Praise Charts, the click from Multi-Tracks and the parts from Rehearsal Mix are linked and uploaded to Planning Center. Typically, when a choir/praise team member or band member click on a certain song in Planning Center, they will have lots of options and resources to practice. Make sure to also add the BPM, time signature and sequence when adding a song so your band knows exactly what they are suppose to sound like.
Here's what just one song looks like in Planning Center for us: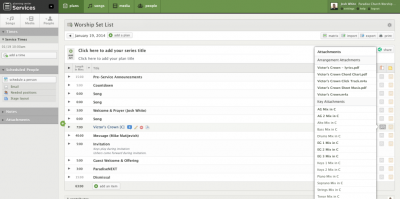 So there you have it—my five-step process to hand over everything I have to my people to get them ready. Typically, my worship team will get service plans two to three months in advance. Trust me when I say, this does not happen overnight. This is something you have to be extremely responsible in creating—but in the long run, your music will be better and more efficient.
Here's a post from Miles about some of the resources he uses too!
This article originally appeared here.