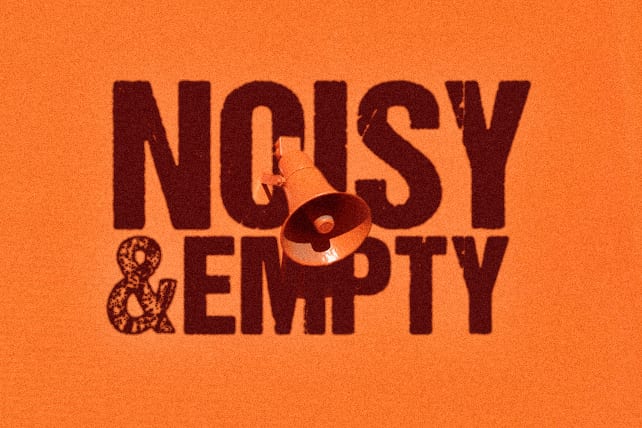 The Book of Amos depicts an interesting problem. The problem is not that God's people don't worship. The problem is that they still consider themselves the people of God when their worship is hollow. Their worship has become nothing more than an irritating sound to God:
"Take away from me the noise of your songs; to the melody of your harps I will not listen." (Amos 5:23)
In response to this, you might ask: When does worship become noise? In other words, when do our attempts to ascribe glory, honor and praise to God start to become an annoying or even blasphemous sound?
A Lesson From Exodus 32
Let's consider these places in the Bible to see what defines noisy, empty worship:
A. Worship without God
And the Lord said to Moses, "Go down, for your people, whom you brought up out of the land of Egypt, have corrupted themselves. They have turned aside quickly out of the way that I commanded them. They have made for themselves a golden calf and have worshiped it and sacrificed to it and said, 'These are your gods, O Israel, who brought you up out of the land of Egypt.'" (Exodus 32:7-8)
When the Bible speaks of worship, it means so much more than sharing a kind word for a job well done. It means actively bending your knee in submission, praise and sacrifice to something or someone worthy of your utmost devotion. That's why what we see happening in Exodus 32 is so offensive to God.
No matter how marvelous they may be to behold, human-made idols like a golden calf are not worthy of worship in comparison to God. The same can be said of worshipping art and artists, discoveries and discoverers, or visions and visionaries.
God alone is worthy of our worship because God alone made us as his image-bearers designed to reflect his glory—not our glory.
So when we worship without him, it is the ultimate let down because we are devoting ourselves to less than the best that we were created for.
When you take a moment to consider all the Bible reveals about God, who else can redeem a nation of slaves from a nation of tyrants? Who else can create something out of nothing? Who else can bring the dead to life?
The magnitude of God's power to transform not just your life but the entire course of the world's history should be reason enough to worship with him rather than without him.
B. Worship without Love
"If I speak in the tongues of men and of angels, but have not love, I am a noisy gong or a clanging cymbal." (1 Corinthians 13:1)
In the United States, we often talk about "love" in terms of passions and affections that bring us pleasure. We fall in love with people, books, jobs and hobbies, so long as we find them delightful. And then when our passions fade, we lose interest, break-up and move-on searching for something new to love.