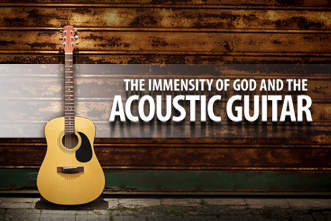 You'd think that staring at something over and over again would eventually grow old. I mean, no matter how interesting and detailed this photo is, eventually you would have covered all the ground. There would be no surprises…
Sometimes, worship leaders are asked this question: don't you ever get to the point where you feel weird or tired of getting up and singing these songs? And the answer is yes. There are definitely moments where I'm thinking, 'Man, I don't think I can ever sing this song again and feel excited about it.' But here's where things get interesting. It's not the songs that I'm excited about. It really was never the songs I was excited about. Between you and me, when my mom first dragged me to church, they were singing "Jehovah Jireh." I was listening to "Enter the Sandman" in my free time. It wasn't contemporary praise and worship that got me into the church. It was Jesus. And unlike songs, Jesus is infinite. He does not finish. There is no start time for Jesus. He has always existed and will always exist. And His love for us is vaster than we are able to comprehend. There is so much to know and see in God that no human lifespan is going to cover it – no matter how many 30-minute worship sessions we squeeze into our weekends.
So although I sometimes forget this, and although I do sometimes look at my schedule and think, 'Oh no, I can't believe I have to lead worship for 3 hours this weekend,' what keeps me in the game – what got me in the game – is God. Not worship music. Not my own songs. Not my deep love for the acoustic guitar or pop rock. It was nothing less than GOD Himself that drew me and continues to draw me into spending time near Him and in His presence. And I have to remind myself that God is not 30 minutes of accessible group singing. God is WAY more interesting than that!! He is maker of everything. The creator of all things. The initiator of love, the originator of life. The redeemer of the unredeemable. He is more fascinating and more engaging than any novel, any movie, any game, any relationship, any person, family, state, nation, or church. He is everything that is good. He is nothing that is bad. And this same Being calls us to draw near to Him. That is what those moments of music are for. Nothing more or less. We are drawing near to the LORD. Bring a helmet, bring a prayer, but leave behind your 'been there, done that' t-shirt.
There is no ending to this God. If those 30 minutes of music are simply an opportunity to look more closely at Him, then they are worth it. And if my music fails to awaken you to who God is, then I apologize. Because He is so much bigger than my songs and melodies and ideas of Him. And yet occasionally, He allows us to see Him for who He is through these songs. Forgive us for our failures as writers, but know that the task of revealing the grandness and immensity of God is beyond any pen or Pro Tools file. As John said 2000 years ago, if everything he did while on Earth was written down, there'd be no space for it. These moments of communal worship are not exercises in checking boxes. We're not just affirming that we believe certain things about Him. We are entering into the vastness and mystery of who He is. The appropriate metaphor is not stocktaking on a Sunday night after a busy weekend of sales. It's walking into an enormous cathedral or cave, lighting a candle, and catching glimpses of something far bigger than we are able to grasp. And that largeness, that overwhelming mystery, is God Himself. It is love and truth and justice.
So the next time you catch yourself wondering if the holes in your worship leader's jeans are really necessary or if saxophone is a legitimate instrument for 2011, take a moment to step back. Stop singing if necessary. Approach the throne of grace with a boldness we are enjoined to muster, and breathe in the vastness and grandness of the God of grace who calls each of us by name. And with Paul, pray for grace for those who lead us in worship. Pray like Paul…
I keep asking that the God of our Lord Jesus Christ, the glorious Father, may give you the Spirit of wisdom and revelation, so that you may know Him better. 18 I pray that the eyes of your heart may be enlightened in order that you may know the hope to which He has called you, the riches of His glorious inheritance in His holy people… (Eph. 1)
And I pray that you, being rooted and established in love, 18 may have power, together with all the Lord's holy people, to grasp how wide and long and high and deep is the love of Christ, 19 and to know this love that surpasses knowledge—that you may be filled to the measure of all the fullness of God. 20 Now to Him who is able to do immeasurably more than all we ask or imagine, according to His power that is at work within us, 21 to Him be glory in the church and in Christ Jesus throughout all generations, forever and ever! Amen. (Eph. 3)