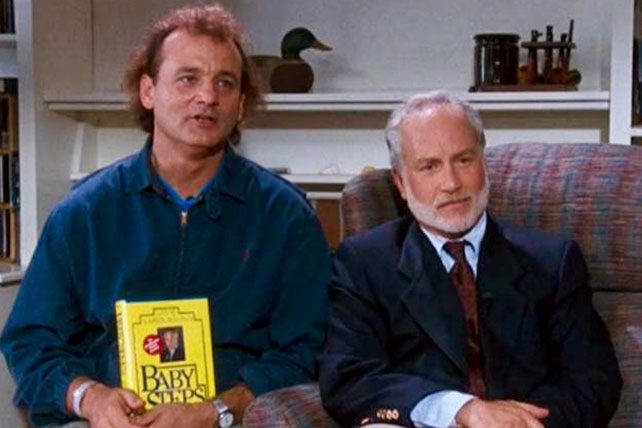 Day after day I come back to Jesus, like Bob Wiley to Dr. Marvin in "What About Bob" and cry out, "I need, I need, I need, Gimme, Gimme, Gimme." I need grace. I need joy. I need strength.  For even the smallest things.
Me, Bob Wiley and the Grace to Be Cheerful
Having gifts that differ according to the grace given to us, let us use them: …the one who does acts of mercy, with cheerfulness. (Romans 12:6, 8)
I've seen lots of people doing acts of mercy lately. My 95-year old Dad, JJ, fell on the ice last December, fractured his ankle on both sides, had surgery, spent a week in the hospital then several in a personal care facility, then had a small heart attack 3 weeks ago which landed him back in the hospital. Lots of people showing my Dad mercy. Many with cheerfulness. Some not so cheerful.
Being the son who lives in the same town as Dad, I've gone to the hospital and care home more than I ever want to again. Of course, I love Dad and want to do all I can for him. But trudging to the hospital every day gets old. So does helping Dad with bodily functions, wiping his mouth and chin when food is caked on, getting him a drink, turning on his TV, etc. None of this tiny acts of mercy are hard. I don't share this to evoke admiration or pity. I share this because I don't always do these simple acts of mercy with cheerfulness.
Sometimes I do. You'd think I could always do them cheerfully. I mean, it's my dad. He's always been a great dad. It's the least I can do. And I know others with immeasurably bigger challenges than me, who have cared for a disabled spouse or child for years with smiles on their faces and gladness in their hearts.