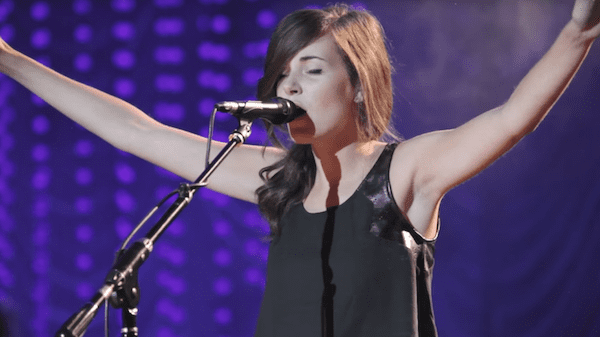 Kristene DiMarco drew inspiration from the story of Jesus calming the storm and a difficult experience in her own life in this beautiful re-writing of the classic hymn "It Is Well." Although she did not experience the same level of hardship as the original song, she certainly learned that through it all it is well.
Through It All It Is Well
"To be shaken by circumstances doesn't make any sense when you think about everything God has brought you through and what He will bring us through in the future," DiMarco says.
While going through a difficult time trying to find a house for her young family, DiMarco says she experienced the Lord telling her, "The waves and wind still know My name, Kristene." And while DiMarco says finding a house is not a huge trial compared to others, she says the root of the issue is worry. In an interview with New Release Today, she explains that Jesus told us over and over again "do not worry." In fact, when Jesus calmed the wind and waves, he "asked the disciples why they were so afraid."
DiMarco researched the background story behind the hymn "It Is Well," and says it is a "reminder that our worship of God should not be based on our circumstances, but based on who God is." She says the story of Horatio Spafford challenged her as she read it. "I thought he really left us with no excuses to feel worry or doubt, because if he could write 'It is Well' after what he went through, it's because of how he understood who God is, and it wasn't based on what was happening in his life," DiMarco said.
Spafford lived in the latter half of the 1800s and was no stranger to devastating circumstances. He lost a son as well as his family's livelihood in the 1871 Great Chicago fire. A couple of years later, he decided to send his wife and four daughters ahead of him to Europe on the SS Ville du Havre. Their vessel collided with another in the Atlantic, and only Spafford's wife survived the accident. As Spafford was traveling to meet his grieving wife in Europe, he penned the words to "It Is Well" as he was passing the spot where his daughters died. His story proves that despite our circumstances, we can have peace and well-being with God.
May you be blessed as you listen to DiMarco's song and be reminded of Jesus' instruction not to worry, because through it all it is well.