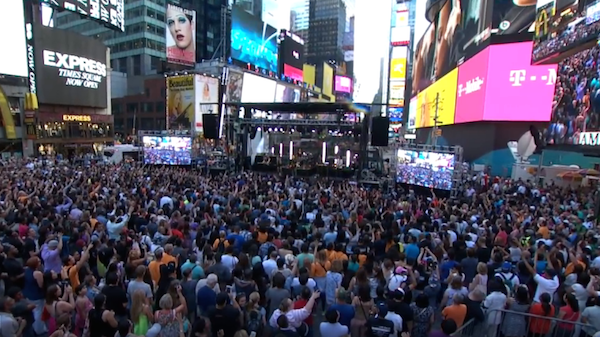 Watch Matt Redman in Times Square, New York, sing his hit worship song "10,000 Reasons" in the following video.
The advertisements in the background are flashing, promoting different products and services, while Redman and the band sing praises to God.
It's moving to see so many people raising their hands in worship, while the camera pans to other people in the crowd who look like they may never have seen a group of people worshipping God so publicly before.
The video gives a beautiful glimpse into what it looks like when we worship God in the midst of a secular culture.
Who Is Matt Redman in Times Square?
Matt Redman (born 14 February 1974) is an English Christian worship leader, singer, songwriter and author now based in Brighton, East Sussex, United Kingdom. An artist for sixstepsrecords, he is also a member and trustee of Compassionart, a charity founded by fellow musician Martin Smith.
Personal life
Redman was born in Watford, England, in 1974. His father suffered from depression and committed suicide when Redman was just seven. He said in an interview with CCM magazine that he only discovered the actual cause of death of his father when he was about 10.[11] His mother remarried, and his step-father was very abusive to him and his family and was jailed.[11]
Redman was converted after attending a mission service by Luis Palau. He was encouraged by Mike Pilavachi, an Anglican Church youth leader, to lead worship in his teens. Redman is one of the founders of Soul Survivor, a spiritual youth movement.[11]
He married Beth Redman, who was also a songwriter and author. The couple have five children.[5] Beth is one of the founders of The A21 Campaign, a charity for fighting injustice in the 21st century, particularly in human trafficking.